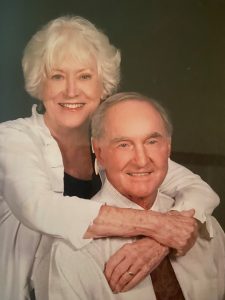 Billy Joe Thompson passed away peacefully, with his dear wife of 62 years, Paula, by his side, on March 8, 2022 from complications of Alzheimer's disease.
Bill was born December 20, 1932 near Charleston, MO. From early in life he excelled, becoming an Eagle Scout at age 13; lettering in football, basketball, and track in high school while also being in the band, Glee Club, and National Honor Society. He was Salutatorian of the Class of 1950 and was voted Homecoming King, Most Handsome, and Most Popular in his class.
His parents were decent, hardworking, and loving people but of very modest financial means. Bill was determined to obtain a college education and the family sacrificed to try to make this possible after he was accepted to the Missouri School of Mines (now Univ of MO) at Rolla, MO. The summer after his freshman year, he and his buddies headed north to Alaska to earn money for college. However, the Canadian border authorities deemed them too financially destitute to safely continue and thwarted their trek. The boys turned back south and settled for mining in Idaho for the summer instead. Bill had to drop out after his sophomore year for lack of funds and he enlisted in the Air Force. He was assigned to Rhein Main AFB in Germany to work as an avionics technician. After his discharge in 1956, he returned to college on the GI Bill to study electrical engineering, which he funded by working as a dishwasher to supplement the $75/month he got from the government. Despite his workload, he did well enough in his studies to be invited to join the Blue Key honor fraternity and Theta Tau engineering fraternity, while also serving as president of his Sigma Pi fraternity.
Upon graduation in 1959, he was hired by Douglas Aircraft Co to work at the launch facility in Cape Canaveral, FL. He married Paula Beasley of Charleston, MO in December of that year and they began their new life together experiencing the excitement of life in Cocoa Beach, FL during the height of the space race. Bill launched Vanguard, Redstone, and Thor missiles and then moved to California to work on development of the Saturn rocket. In 1963, NASA asked him to move back to FL to work on designing the Apollo launchpad at Complex 34; he was working there on the day of the Apollo 1 launchpad fire in 1967. Having settled his growing family in Satellite Beach, Bill became a member of the Apollo Launch Team in 1968. He was competent, hardworking, and popular as always, and received numerous NASA awards and a personal thank you letter from Alan Shepherd, the first American in space, during this time.
Despite the pressures of his career, Bill made a conscious choice to lead a balanced life. He was active in the United Methodist Church; sang in the church choir and community chorales; played in a weekly men's poker group; and tinkered happily with house and yard projects (with Paula serving as Artistic Director). He was a very involved father, leading frequent family outings to the beach; teaching his kids to swim, play ball, and tennis; and camping with scouts. Though money was tight in those early years, he always saved up to take us on summer road trips throughout the southeastern U.S. Our adventures ranged from the "planned" (whitewater rafting in North Carolina) to the "unplanned" (getting stranded on a remote mountain highway somewhere in Tennessee while the station wagon's radiator burned up).
Bill and Paula had a wide circle of friends and enjoyed cookouts, bridge, sun and surf, and many, many parties during those exciting decades of the 60's and 70's on the Florida Space Coast.
After the Apollo program ended, Bill transitioned to the Space Shuttle program, performing in various capacities, and retired from NASA in 1987.
Their life together after retirement was filled with their respective hobbies and travel. Bill was an avid golfer and tennis player, and played both well into his 80's. In 2002, they moved to Houston, TX to be closer to their children and grandchildren. They joined Clear Lake United Methodist Church, sang in the choir, and attended their grandchildren's extracurricular activities. Their lovely home was filled with books, music, and mementos of their travels around the world, which included Alaska, Australia, New Zealand, Morocco, and Europe.
Bill was extraordinarily humble. He never spoke of his accomplishments – the most important thing to him was how he could serve others. He rarely ended a conversation without asking "is there anything I can do to help you?"  He was the rock of our family, always there in time of need and was a generous contributor to many charitable organizations. He was calm, kind, strong, patient, and unpretentious – loved and admired by all who knew him. His grandkids deemed him "Coolest Granddad Ever" for his snazzy fashion sense, great taste in music, and knowledge of pop culture. Though easy-going, his competitive streak came out on the golf course, the tennis court, the poker table, and during family game nights, where he was often the victor.
He was an exemplary man and a true gentleman. He was the smartest, most capable person we all knew, and it has been heartbreaking for him and his family to see how Alzheimer's took that and his memories away from him in his last years. He will be greatly missed.
Bill was preceded in death by his parents, Olly and Jodie Thompson, and his brother Jack. He is survived by his wife Paula; children Susan Hanley of Houston (children Steven, Lauryn, Amanda), Rebecca Thompson of Dallas (son Andrew), and Paul Thompson and wife Melinda of Vancouver, WA (children Madison and Jake); and sister Betty.
The family would like to thank the staff at The Shores of Clear Lake for the care they provided Bill in the last year of his life.
A private memorial service will be held at a later date. In lieu of flowers, donations can be sent to Clear Lake United Methodist Church Choir, the Alzheimer's Association, or the charity of your choice.