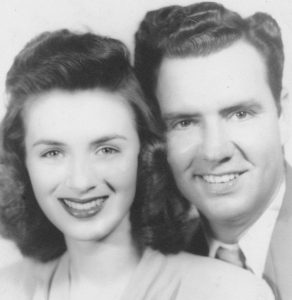 Beverly Ann Brown of Seabrook, Texas passed away in La Porte, Texas on the morning of January 4, 2023.
She was born in Beaumont, Texas on August 7, 193 I to Clarence and Edria Gilbert. She moved to Bacliff, Texas in her early years, where she met the love of her life, Paul Franklin Brown, marrying him at the age of 16. She soon welcomed their son, Kenneth, followed a few years later by their daughter, Paula. They moved to Seabrook early on in their marriage, making it her home for the last 58 years. (The funeral procession will pass by her home.)
Her greatest joys in life were taking care of her family and friends and cooking and baking meals for family dinners and holidays, and for anyone that just happened to stop by. Rarely would you leave her house without a ziploc bag of freshly baked sugar cookies to take with you. Her door was always open, and you were always welcomed in, and fed. She loved Jesus and her church families and attended any and every function, always bringing along her famous potato salad or one of her beloved desserts. Oftentimes when we would look for her, we would find her praying in her bedroom. She also loved to garage sale and attend auctions with Paul for the antique shop they had for years in the front of their home, Brown's Browse-In. She loved adventure, and enjoyed taking many trips with, or to visit, family and friends, especially cross-country with brother and sister-in-law Jimmy and Sylvia Brown and sister-in-law Alice Tice.
She is preceeded in death by her parents Clarence and Edria Gilbert, husband Paul Franklin Brown, brothers J.C. and Ronald Gilbert, and grandson Walter Lee Robertson IV
She is survived by her son Kenneth Brown and fiancée Allison Jackson, daughter Paula Robertson and husband Robbie; grandchildren Kevin Brown, Alisha DeLozier, Sara Stanley and husband Cory, David Robertson and wife Anneke, Travis Robertson and wife Chelsey, and Jason Free and wife Debi; great-grandchildren Elizabeth Brown; Caden Hodge; Van and Layne Stanley; Rylee, Rory, and Rhett Robertson; and great-great-grandchild Adrian Ramos; and a host of family and friends.