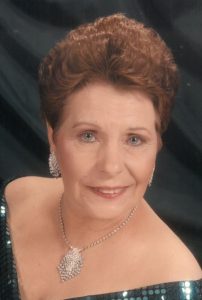 Betty Yvonne Wilson, 78, claimed her eternal rest January 8, 2017 in Texas City, Texas. She was born in New Orleans, Louisiana December 22, 1938. She was raised in Arkansas. In 1957, Betty graduated as valedictorian from Quitman High School in Quitman, Arkansas. She moved to Galveston and started a career with American National Insurance Company, where she met the love of her life, Warren Wilson. They married at Sacred Heath Church on February 2, 1958.
She was an avid Lassie League softball coach as well as her husband. Together they shared precious moments with their children. Her hobbies included gardening, reading, singing in the church choir and learning to cook with her mother-in-law, Josephine Wilson. Most of all she loved sharing time with family and watching her children grow.
She worked for American National Insurance Company for 45 years and retired in 2002 with many fond memories and friends. She and Warren were blessed to travel the world and share its hidden beauties.
She is preceded in death by her mother and father in-law, Josephine and George Wilson, both of whom embraced her as a daughter, brothers- in-law Gary Wilson and Gene Sharp, along with numerous aunts and uncles.
She is survived by her husband Warren Wilson with whom she spent 58 years of unconditional love and devotion.
To their union, four children were born, Valerie Millican, husband David, Phyllis Hosey, husband Phil, Pamela Fearrington, husband Robert, and a devoted son, Bruce Wilson, four grandchildren, Billy Jack Sanders, III, wife Sabrina, Sean Fearrington, John Ross (JR) Fearrington, wife Brittany, Morgan Fearrington, two great grandchildren, Kyle and Kaylee Sanders, her dearest sister, Marie Sharp, nephew Mike Sharp, wife Angie, niece, Debbie Baily, husband Ron, sisters-in-law, Shirley Choate, Glenda Mouton, Donna Lawrence and Nora Wilson, a very special aunt, Christine Bertolino Welch and many dear relatives and friends.
A special thanks and gratitude to her very special caretakers, Debra Bell Hagler, Driska Freeman and Krezandra Erving. Mom truly loved these women and considers them part of the family.
Visitation will be Friday, January 13, at 5:00 p.m. with a celebration of life service at 6:30 p.m. at Crowder Funeral Home, 401 Texas Avenue, La Marque, Texas 77568 with Deacon Sam Dell' Olio officiating. A private burial will be held at a later date.