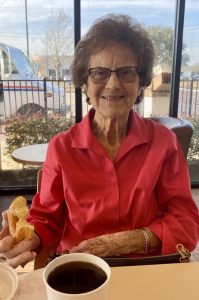 Betty Margaret Beier, 86, a resident of Pearland, TX since 1987, passed away May 14, 2023 in Pearland, TX. She was born in Navasota, TX on January 8, 1937. She attended St. Helen Catholic Church and worked for Houston Lighting and Power (HL&P) for 30 years. She enjoyed cooking for her family.
Betty reunites with her husband of 53 years, O.C. Beier; parents, Mike and Mary York; sister, Ann Grupa and sister-in-law, Janie York; brothers: John York, Harold York, Frank York and Charlie York.
She leaves behind her daughter, Karen Collins, husband Michael; sons: James Beier, wife Cecilia, and Mark Beier, wife Donna; grandchildren: Michelle Dique, Jonathan Beier, Christine Beier, Joe Beier, Kelly Beier, Keith Beier, Stephen Beier, Tracy Collins, Joshua Collins, Duston Smith, Fabian Klamer, and Brionna Klamer; sister, Agatha Dial; brother, Thomas York; as well as numerous great grandchildren.
A visitation will be held Tuesday, May 16, 2023 from 5 p.m. to 8 p.m. with a rosary to begin at 6p.m. at Crowder Funeral Home in Pearland. Mass will be at 10 a.m., Wednesday, May 17, 2023, at St. Helen Catholic Church with a reception at 11 a.m. Burial to follow at 2 p.m. at Resthaven Cemetery in Houston.
Pallbearers will be, Jonathan Beier, Joe Beier, Keith Beier, Stephen Beier, Joshua Collins, and Ronald Borski.