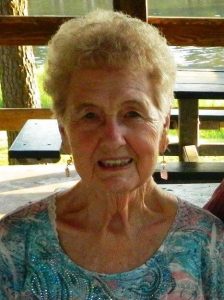 Betty Lou Oliver Keener, 82, of La Marque passed away on Tuesday, March 27, 2018 in Webster, TX surrounded by her family.  She was born on July 12, 1935 in Waco, Texas to Dan and Bessie Oliver.
She was a resident of La Marque since 1963, a member of Highlands Baptist Church for over 50 years. Church was her life and she especially enjoyed visiting the sick. Betty also enjoyed gardening; she was a book keeper at Malone Trucking Company and she worked in sales for Lowe's Fashion.
She is preceded in death by her parents, sister Virginia Oliver and brother Doug Oliver.
Betty is survived by her husband of 61 years, James Keener, daughter Karen Keener, sister Dorothy Jeffcoat and husband Oscar and numerous nieces and nephews.
A visitation will be on Saturday, March 31, 2018 at 1:00pm in the chapel of the James Crowder Funeral Home with the service to follow at 2:00pm with Arlen Woody officiating. Interment will follow at Hayes Grace Memorial Park in Hitchcock, Texas.
Pallbearers will be Ken Jeffcoat, Jim Jeffcoat, CJ Crawford, Roland Hennington, Morris Dagerath and David Rac.
In lieu of flowers donations in her honor can be made to Highlands Baptist Church.