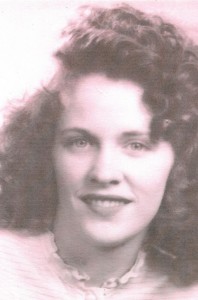 Betty Lois Bryan (85), beloved wife, mother, grandmother and friend, was called to Heaven on August 19, 2015 in San Leon, TX. She passed away peacefully at home with her family by her side.
Welcoming Betty to heaven are her parents Willie Welch and Beulah Mae Reeves; daughter Sandy Everett; sister Evelyn Byrd; brothers Billy Bob Welch and Skeet Reeves and niece Jan Everett. Left to cherish her memory are husband Frank Bryan; daughter Sue (Susie) Pinson and her husband Paul; grandson Jeremy (Boogie) Stanley and his wife Theresa; great-grandchildren Jordan and Anthony Smith, Camryn and Addison Stanley; Kenadee Smith; sister Natalie Dover, many loving nieces and nephews, adopted family, countless friends, as well as her granddog Layla.
Born on December 22, 1929, in Crockett, Texas, Betty went to school in Willis, Texas, eventually moving to Houston to start an early waitressing career at such places as Chicken in the Pan, Truckers and then eventually Triple A Restaurant for many years, where they still have photos of her and her sister Evie on the wall. She was known for her strong work ethic and was very proud of being a waitress and serving others. She gave her all to everything she did-always bigger and better than the next. She was also a champion bowler during these years. She loved music and enjoyed dancing, spending a fair amount of time at honkey-tonks at the dude ranches in Bandara when she wasn't working or taking care of her girls.
After marrying the love of her life, Frank Bryan in 1967, they moved to Kemah, Texas where she enjoyed the sun and living on the water. They did some traveling and camping throughout the U.S. Betty then continued her career at the Dutch Kettle Restaurant. She loved the quaint small town atmosphere and many years of being involved in the local activities with her neighbors and friends. She never met a stranger. If you had the privilege of meeting her, you instantly loved her. She began working on the Waterfront, starting at Jimmie Walker's and then finally at Pier 5 (Where the Elite Eat in Their Bare Feet). This is where she got her famous nickname, "Boom Boom" Betty Bryan (as mentioned in the Kemah history book). She ended her stint there by leading the New Orleans style funeral down the streets of Kemah to say good-bye to the legendary restaurant.
As the new Kemah burst into being, she and Frank would move on to another charming quaint little bayside town, San Leon, Texas. They spent their retirement there taking in lots of nature, with an occasional trip to the Casinos in Louisiana where they enjoyed the slots and playing Bingo. Always known to be a down-home Southern cook, you would never leave her house hungry.
Her daughter, Sandy, lost her fight to AIDS in 1995, but she was able to spend many of these days with her, which was such a blessing. Her great-grandkids came along and her days were filled with such love and pride. She would dare not miss one of their many events, cheering them on and encouraging them as well as offering ideas on how to improve and keep going.
Always known for her strength and brutal honesty, she would let you know how she really felt about anything. Some additional nicknames through the years: Betty the Bomb, Hurricane Betty…even Betty Schwarzenegger. She really liked that one (given to her by her son-in-law). Her piercing beautiful bright blue eyes sparkled with kindness and her smile would light up any room, her infectious feisty spirit always welcome. She was uniquely fabulous, truly one-of-a-kind, a force of her own.
She is in a place o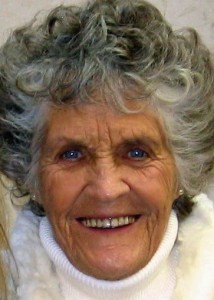 f no more sorrow, no more tears, no more pain; the old things have passed away. Betty would want everyone to remember that the peace of God, which surpasses all understanding, will guard your hearts and your thoughts in Christ Jesus. She will be Dancing in the Sky with the angels and loved ones. Here on earth, we will cherish her in the Fragrance of Memories.
There will be a funeral Mass at St. Mary Catholic Church, 1612 E. Walker Street, League City, TX 77573 on Friday, August 28, 2015 at 10:30 a.m. with a Celebration of Life immediately following at the home of Paul and Sue Pinson. The family wishes to thank all of those who cared for her and helped her last days be so memorable. Donations may be made to the AIDS Foundation, or charity of your choice.