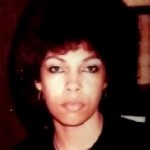 Betty Jean Mallett-Maxey was born in Liberty, TX on October 19,1948, the daughter of Earl and Gustavia Mallett of Raywood, TX. Betty was christened to the Catholic faith at Sacred Heart Catholic Church in Raywood, TX. She later met and married James Joseph Guidry in 1965, at Sacred Heart Catholic Church. From this union came 4 wonderful boys. Later in life she married John Maxey in 1978. She is preceded in death by her husband John Maxey, her father Earl Mallett, mother Gustavia Mallett, 3 brothers Earl Mallett Jr., Ricky Mallett, Preston Mallett and brother-in-law Marion Donato.
Betty is survived by her 4 sons, Louis Joseph Guidry of Corpus Christi, TX; Kenneth James Guidry "Marsha" of Boerne, TX; George Anthony Guidry of McNair, TX; Michael Earl Guidry "Yen" of Santa Fe, TX. She also leaves to cherish her 6 grandchildren and 1 great – grandchild.
Celebrating Betty's life and mourning her passing are her 3 sisters, Louise Donato, Loretta Mallett and Linda Mallett; many nieces and nephews; brothers-in-law and sisters-in-law.
Betty was a devoted wife, loving mother and grandmother full of spunk. Her treasures were the time she spent visiting with her children, grandchildren, family, and friends. She enjoyed life to the fullest and her sweet spirit will be missed.
Active Pallbearers
Erik Donato
Michael Hopson Jr.
Clem Burns
Eddie Maxey
Ernest Maxey
Robert Brown
Troy Redd
John 11:25 Jesus said to her, "I am the resurrection and the life. Whoever believes in me, though he die, yet shall he live, and everyone who lives and believes in me shall never die. Do you believe this?"
John 10:27-29 "My sheep hear my voice, and I know them, and they follow me. I give them eternal life, and they will never perish, and no one will snatch them out of my hand. My Father, who has given them to me, is greater than all, and no one is able to snatch them out of the Father's hand." (Jesus speaking)
Romans 8:38-39 For I am sure that neither death nor life, neither angels nor demons, neither the present nor the future, nor any powers, neither height nor depth, nor anything else in all creation, will be able to separate us from the love of God that is in Christ Jesus our Lord.
Isaiah 48:29-31 He gives strength to the weary and increases the power of the weak. Even youths grow tired and weary, and young men stumble and fall; but those who hope in the Lord will renew their strength. They will soar on wings like eagles; they will run and not grow weary, they will walk and not be faint.