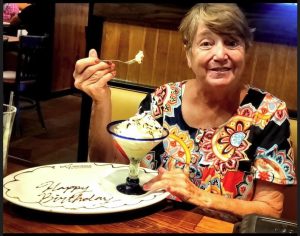 Betty Ann Sexton, 73, of Seabrook, Texas peacefully passed away on November 14, 2022. Betty was born on April 25, 1949 to Tom & Mary Ogg in Zanesville, Ohio. After Betty graduated from Philo High School in Chandlersville, Ohio, she moved to the busy city of Columbus, Ohio. Soon after, she married Michael Sexton, of Columbus, Ohio. Betty & Mike became a family of 4, when Michelle & Michael were born. Betty spent many years as a homemaker raising the kids as Michael provided for the family. When the kids were older, she went to work for Sears Roebuck. Mike and Betty then moved to Grove City, Ohio where they enjoyed having an empty nest. Many years later, Betty retired from Sears. Betty & Mike became the proud grandparents to 6 grandchildren, Zachary, Travis, Tyler, Autum, Kodey & Allison. Unexpectedly, on October 29, 2008, Betty became a widow with Michael's passing. A few years later, Betty became a proud great grandma to 3, Landon, Arlo & Jacob.
In 2020, Betty decided she was done with the cold weather in Ohio and moved to the great state of Texas. Betty quickly became a Texan. She absolutely loved living in Texas, enjoying the sunshine and sea air. Betty truly became her best self and lived her best life along with her sidekick, Milo. Most days, you could find her outside talking with her neighbors or checking out the newest restaurant in town. She took great pride in taking care of her plants and decorating her outdoor space. She bragged about watching her plants grow and bloom most of the year. She loved to take Milo to the dog park, where she sat on the bench and as she called it, shoot the shit with whomever else, happened to be there. Betty was kind, caring and generous to all. She was a ray of sunshine to strangers and a friend to many.
Betty was preceded in death by her husband, Michael, her mother Mary, her fathers, Thomas and James. Michael's sisters, Diane, Debbie, Patty, Denise and Ruth- Ann. Brothers John and Bill and Michael's parents, Bill & Ruth. Betty is survived and will be missed everyday by her children, Michelle & Doug Lewis and Mike & Liza Sexton. Her grandchildren, Zachary Hillard, Travis (Mikayla) Hillard, Tyler Patton, Autum Lewis, KodeyLewis and Allison Sexton along with special family friend Michelle Nguyen. Her great grandchildren, Landon, Arlo and Jacob Hillard. Sisters & brothers, Bonnie & David Watts, Tom & Rita Ogg and Kenny & Sharon Ogg. Michael's sisters & brothers whom she loved as they were her own, Sue Tope, Joe & Patty Sexton, David & Sandy Sexton, Mary & Mark Bowen, James Sexton, Janice Wahrer & Karen Lockwood. Betty was a blessed with many, many nieces & nephews, cousins and friends who also will miss her.
Betty will be cremated in Texas with a memorial service to be held in Ohio, at a later date.