Bertha Una Schueneman Adams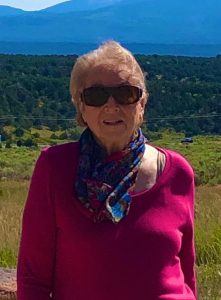 Bertha Una Schueneman Adams joined her beloved husband James Maurice Adams in heaven on February 21, 2021. Bertha was born December 10. 1938 to Herman Walter Schueneman and Hazel Lorena Surface Schueneman in Alvin, Texas. She lived in Alvin throughout her childhood and graduated from Alvin High School. She was married to James Maurice Adams on August 15, 1981. She was one of seven children and a beloved step-mother, sister, aunt, grandmother, and great grandmother.
Bertha and Maurice Adams resided in Lake Sheridan, Texas, which is about two hours outside of Houston. They were truly soulmates whose love permeated their family. Though they only had 17 years together they lived every moment to its fullest; spending lots of time traveling and with their family. For many years they did craft projects and sold their crafts at festivals throughout Texas. They both enjoyed going to flea markets and craft fairs. They were both members of the United Methodist Church in Rock Island, Texas and were instrumental in restoring the small church to its original state and bringing in members after the church sat dormant for many years. They were both strong Christians and enjoyed sharing their faith with others through many acts of kindness in their small community. They mowed lawns for all the widows in their small lakefront development and spent many a day repairing and refurbishing the homes and the property of their friends.
For the past 16 years, Bertha lived with her step-daughter and son-in-law, Roxann and Kevin Lewis, in League City, Texas. She still enjoyed traveling and took many trips with Roxann. They took cruises and traveled from Washington, D.C. to the Oregon coast during their many years of trips together. The past few years, as Bertha's health receded, they took shorter trips to the Texas Hill Country to see the spring flowers, and to the Texas Coast.
Bertha has been a proud member of the Clear Creek Republican Women's club for over 14 years. She enjoyed attending meetings and made faithful friends who spent time with her and kept her spirits up for the past few years as her health began to fail. Prior to her health issues she enjoyed volunteering at the One Room School House in League City and Devereaux Behavioral Health Center for Children and Young Adults. She served for many years as an election clerk for Galveston County and enjoyed participating in that way.
Bertha was preceded in death by her beloved husband, James Maurice Adams; brothers, Glen E. Schueneman, and William L. Schueneman; and sister, Hermina M. Schueneman Dolney. She is survived by her step-daughter, Roxann Adams Lewis and her husband Kevin Lewis; stepson, James M (Mickey) Adams; sister, Katherine D Schueneman Ramsey and her husband Gayle Ramsey; brother, Herman W (Butch) Schueneman and his wife Sandra Schueneman; grandson, Douglas Petty; granddaughters, Cristen Lewis Lott and her husband Christopher Lott, and Candice Lewis Blaylock and her husband John Blaylock; 18 nieces and nephews; 7 great-grandchildren; and many great-nieces and nephews and great-great nieces and nephews.
A memorial service will be held in Bertha's honor on Saturday, February 27, 2021 at 3:00 PM in the chapel at Crowder Funeral Home in Dickinson, Texas.