Bertha Nell "Bo" Johnston Lohec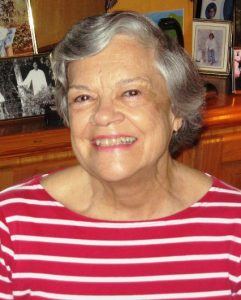 On November 1, 2016, our community lost a beloved wife, mother, grandmother, great-grandmother and friend, Bertha Nell "Bo" Johnston Lohec. She died peacefully in her sleep in Webster, Texas.
Visitation will be held at Crowder Funeral Home, 111 E. Medical Center Blvd, Webster, Texas on Friday, November 4 from 6:00 to 8:00 PM.  A memorial service to celebrate Bo's life will be held Saturday at Clear Lake United Methodist Church, 16335 El Camino Real at 4:30 PM with Reverend Charles Anderson officiating.  Friends and family are invited to attend a reception following the service in the church hall.
Bo was born on a farm in the little town of Lometa, Texas in 1933. At the age of 9, her family moved to Galveston, Texas.  After graduating from Ball High School in 1950, Bo attended business college to gain clerical skills which landed her a job with Santa Fe Railroad.
In 1953 she married the love of her life, Ronald Lohec. She worked to support him as he pursued his engineering degree from the University of Houston.  Ronald graduated from U of H in July, 1955, the same month as the birth of their first child.  Bo then embraced motherhood as her true calling and devotedly raised three children – Phyllis, Marsha and Wesley.  Later she was joyfully blessed with 9 grandchildren and 2 great grandchildren.
During the course of their marriage Ron's career with Exxon took Bo and Ron to numerous towns and cities including Alta Loma, Houston, Overton, Tyler, Dallas, and New Orleans, as well as assignments in England, Norway, Malaysia and Indonesia.
Bo had a brave and adventurous spirit and she readily adapted to the family moves that made her a world traveler. Highlights of her experiences were traveling throughout Europe and Asia, meeting the Queen Mother, sailing in the Pacific and in the Gulf of Mexico on her namesake, the 'Nellie Belle'.  And wherever she went, to every corner of the world, she would amazingly meet an old friend and often she would make a new one as well.
She was a Girl Scout leader, volunteer at her Church, Children's Hospital, and in many neighborhood and community organizations. Bo was known by her beautiful friendly smile and welcoming spirit of friendship to all.  Bo's welcoming spirit was embodied in her gift for hospitality.  She loved nothing more than to bring friends and family together to celebrate and to enjoy each other's company.
Bo was preceded in death by her parents, Kyle and Dona Agnes Johnston, her siblings: Kyleine Scales, John Johnston, Aubrey Searcy, Margie Holifield, and Boyd Dewey Johnston.
She is survived by her husband Ronald Lohec, her children, Phyllis Turnham, Marsha Green, and Wesley Lohec, 9 grandchildren and 2 great grandchildren, her siblings Birdie Brantley, and Leo Johnston.
The family wants to thank the wonderful people of Kindred Rehabilitation, Griswold Home Care, Webster Rehabilitation, St. Luke's Hospital and Bay Area Regional Hospital for their care, attention and love.
In lieu of flowers, memorial donations may be made to the: Bertha 'Bo' Johnston Lohec Engineering Endowed Scholarship, University of Houston, Cullen College of Engineering, c/o Russell Dunlavy, 4722 Calhoun Road, Room E421, Houston, TX 77204, or to Clear Lake United Methodist Church, 16335 El Camino Real, Houston, TX 77062.