Bertha Louise Smith Seigfried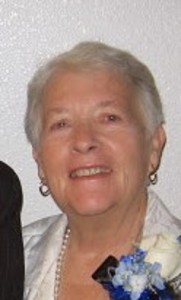 Bertha Louise Smith Seigfried passed away on Friday, March 25, 2016 in Clear Lake, Texas, surrounded by her family.  She was born on January 20,1941 in Hunlock Creek, Pennsylvania to Hazel Rittenhouse Smith and Charles Smith.  She married her eternal companion, Joseph Milton Seigfried, on January 21, 1961.  She is survived by her husband, her brother Charles Smith, as well as her children; Dayl Bruce Seigfried (Carol), Gregg Louis Seigfried (Judy) , Karon Donna Seigfried Garrett (Chad).   Bertha was loved and cherished by her grandchildren: Joshua, Brian, Heather and Anna (Dayl and Carol), Jason, Tristan, Ammon, Gretchen, Adrian, Hannah, Sarah and Jimmy, (Gregg and Judy), Katie, Wesley, Luke, Samuel, (Karon and Chad) and 4 great-grandchildren; Callie, Jay (Joshua and Vicki), Sophia (Brian and Katie), and Eric (Anna).
Bertha was well loved by everyone who knew her and because of this has a multitude of friends all over the world.  Her greatest joys in life were her family, cooking and baking, and serving in her various church callings.  One of Bertha's greatest passions in life was doing genealogy and she worked for many years as Family History Specialist for The Church of Jesus Christ of Latter-Day Saints of which she and Joe had been members of since March 20, 1976.
A visitation will be held Tuesday, March 29th , 6-8pm and a Memorial Service on Wednesday, March 30th, 11am both at The Church of Jesus Christ of Latter-Day Saints, 4655 S. Shore Blvd, League City, TX 77573.  Interment will be in Maple Grove Cemetery, Pikes Creek, PA on a date to be determined.
In lieu of flowers the family requests that donations be made to ldsphilanthropies.org to the category of your choice.