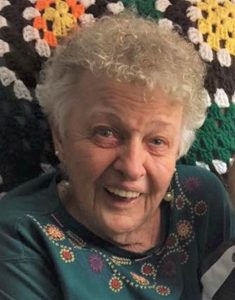 Bertha Helen Angell went to be with Jesus on April 7th. Her life will be celebrated on Wednesday, April 11th at 11:30am with Pastor Brackman officiating at Peace Lutheran Church in Texas City. In lieu of flowers please make a donation to Essential Hospice.
Bertha worked for Lipton Tea and at American Printing in Galveston for years making many friends that she kept throughout the years. She also served as a volunteer for Hospice and ran their resale shop with all proceeds going to Hospice. She was also a member of the Grandmothers club for several years.
She loved bingo and played as often as she could, enjoying a win on occasion. She also enjoyed going to the casinos when she could. Her face would light up when you mentioned bingo or the casinos.
She was a compassionate person, sewing cloth carry pouches for wheelchairs and walkers and hand croqueted hats which she handed out to people everywhere she went.
In her younger years she loved family BBQ's and playing card games for hours with all the family. And she enjoyed camping overnight on the beach with all the relatives and going crabbing or floundering. Later in life she had a camp in Livingston where she spent weekends fishing.
She was the youngest of six children of immigrants, born in Florida, moving to Texas when she was only three. Her mother was from Austria and her father from Newfoundland.
She has been a faithful member of Peace Lutheran Church in Texas City for many years.
Bertha was proceeded in death by husband Rolland Morgan Angell and daughter, Jean Davis and her four sisters and brother. She is survived by son Mark and daughter in law Guyla Angell, two daughters, Terri Mitchell and Karen Davis. She is also survived by grandchildren, Chris Davis, Jimmy Mitchell, Lanna Mitchell, Mike McCullough, Jeff Baker, Dianne Davis and ten great grandchildren. She is also survived by numerous nieces and nephews. A special mention to nieces, Linda Jones, Barbara Ladd and Patricia Munoz who helped to care for her over the last few years.
We would also like to thank Essential Hospice, especially her beautiful nurses, Gerri and Carol.