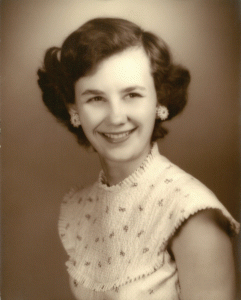 Bertha Ellen Beall was called home to Heaven on Monday, May 16, 2016. She was born in Oklahoma City, Oklahoma on January 26, 1933 to Rose May Asher Butler and Thomas Raymond Butler.  After a 1937 divorce, Rose married Ed M. Wilderman on December 29, 1938.  The family moved to Galveston, Texas in 1943.  Bertha changed her surname to Wilderman in 1954.
Bertha attended Goliad Elementary and Lovenberg Junior High School, where she met wonderful life-long friends.  After attending Ball High School for 1 year in 1949, she moved to Woden, Nacogdoches County, Texas to live with her sister and brother-in-law, Billie Jean and Odis Simmons.  During the summer, she got her first job at the Lipton Tea Plant in Galveston.  She graduated from Woden High School in 1952 and moved back to Galveston.  There she worked for American National Insurance Company and started dating Wayne Oliver Beall, who she had met 6 years before in Junior High.  Bertha married Wayne, the love of her life, on June 4, 1954 at her parents' home in Galveston.  They were married for 60 years.
Bertha was an avid genealogist and family historian for 38 years.  Her dedicated research led to lasting friendships with many distant cousins and family members, and she always loved making new connections.  Bertha was a Charter Member of both the Galveston County Genealogical Society and United Daughters of the Confederacy – Ft. Virginia Point Chapter #2539, and a Lifetime Member of the Texas City Ancestry Searchers.  She was an active member of the U.S.D. 1812 – Francis Fleshhart Chapter #367, Daughters of Union Veterans of the Civil War 1861 – 1865 – Sarah Emma Edmonds Detached Tent #4, and Clayton Library Friends, Houston.
Over the years, Bertha Ellen bowled in several leagues at Gray's Lanes in Texas City and worked in the snack bar there.  Wayne and Bertha raised Beagles which they ran in Field Trials from 1964 – 1974.  Their latest project was raising homing pigeons, racing them from 1974 to 2006.  Many people knew Bertha from her years' work in election polling places in Texas City and La Marque.
Bertha was preceded in death by her husband Wayne Oliver Beall, her son Bret Wayne Beall, her parents Thomas Raymond Butler and Rose May Asher Butler Wilderman, her stepfather Ed M. Wilderman, and her sister Billie Jean Simmons.  She is survived by her daughter-in-law Lisa Beall; grandchildren Alesha Key and Frank Key of Woden, Texas; great-granddaughter Harlee Key.  Bertha is also survived by her sister-in-law Clara Alice Waddell Turner of Hico, Texas, many cousins, nieces and nephews, their spouses and children.  She loved her family and friends deeply and unconditionally and will be missed by all who knew her.
A visitation will be held from 4:00PM to 6:00PM on Friday, May 20, 2016 at the James Crowder Funeral Home in La Marque, Texas with a Service to follow at 6:00PM.  A Graveside Service will be at 4:00PM on Sunday, May 22, 2016 at Simpson Campgrounds in Woden, Texas with Brother Sonny Scarbrough officiating.  In lieu of flowers memorials can be made to Simpson Campground Cemetery 9557 FM 226 Nacogdoches Texas 75961.