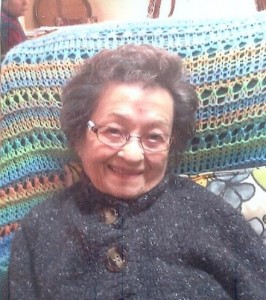 BERNADETTE MARIE THERESE MOSGROVE
Bernadette Mosgrove was the fifth of seven children born to Nicolas Eugene and Marie (Clementine) Thiry on August 5, 1923 in Bouxieresn-Oaux Dames, near Nancy France.  After attending business school in France, she worked in an office for a short while before meeting Marvin Richard Mosgrove at a USO dance.  They were married six months later on June 30, 1945.  After arriving in the United States, they settled in Richmond, Indiana.  She held the position of homemaker and bookkeeper for the family business.  She also worked part time at Richmond Dry Cleaners where she made many lifelong friends.  Bernadette loved France and missed it greatly; she shared that love through tutoring high school and college French students.  In 1998, she and Marvin moved to Houston to retire near their two daughters.  She belonged to the Carmeliters and Senior Friends. Her world revolved around her children, grandchildren and great grandchildren.  She enjoyed spending holidays and Friday night's playing card games such as Euchre and Hand and Foot.  She also enjoyed meeting new friends at a monthly BUNCO game started by her daughters and their friends.  At home, Bernadette enjoyed gardening, knitting, sewing, crocheting and baking, her specialty was pies; no one could top her crust.
Until her health declined, she was a member of St. Bernadette Catholic Church in Houston.  In May, 2015 she moved to La Vita Bella Assisting Living in Dickinson. The resident cats often came looking for her as they sensed she was a cat lover.  Her love of animals also extended to dogs, which included three Cocker Spaniels and one mixed Rottweiler. Her family is grateful for the care she received while living at La Vita Bella.  Marvin, her dear husband, passed away on March 5, 2003, and Bernadette left to join him on Sunday, August 7, 2016.  After spending 58 years together on earth, they are now spending eternity together in Heaven.  Her parents and her six siblings were also waiting for her arrival.  She is survived by her son and daughter-in-law, Jack and Kay Mosgrove of Cincinnati, OH, her daughter and son-in-law, Anne Marie and Carl Grossmann, her daughter and son-in-law, Denise and Jerry Widmar, all of Houston, TX.; grandchildren, Lori (husband John), Kim (husband Will), Sandy, Daniel, and Michael; great grandchildren, Rylie, Paxton, Auggie, Avery, and Liam;  sister-in-law and brother-in-law, Shirley and John Mosgrove of Richmond, IN.; nieces Jacqueline and Mireille; nephew Alain and many great nephews and nieces in France and many other friends and relatives.  A void is left in the hearts of those who loved her and she will be greatly missed.
Memorial donations may be made to the Alzheimer Association or the Heart Association.  The family will receive friends on Tuesday, August 16, 2016 at 9:30 a.m. for visitation and Rosary.  The Funeral Mass begins at 10:30a.m. at St.Bernadette Church, 15500 El Camino Real, Houston, TX.  77062