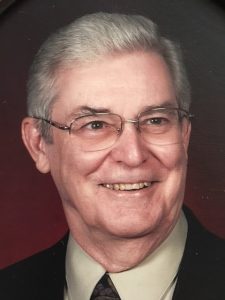 Bennie G. Lockett (Ben). 85, passed away on Feb. 7, 2018 in El Lago, Texas. Ben was born on May 5, l932 in Birmingham, Alabama to Vivian and James Bennie Lockett. Survivors include his wife of 65 years, Anne Jones Lockett; 4 children, Catherine West and husband Steve, Scott Lockett and wife Karen, Bennie Sidman and husband, Jud and Carrie Lockett. Grandchildren include 7 granddaughters, 2 grandsons, 4 great granddaughters (& another in July) and one great grandson.
Also surviving is his sister-in law, Dorothy House of Canyon Lake, Tx. and her 2 sons and daughter.
Immediately out of high school Ben served in the Air Force for 2 years and later graduated with an Electrical Engineering degree from Auburn University. His career included working for the Tennessee Coal and Iron Company in Birmingham, Ala,
Vitro Services in Huntsville, Alabama, Boeing Aerospace at NASA and the last 25 years were spent at Columbia Gulf Transmissions in Houston, Tx., finishing his career as Director of Engineering Facilities.
Upon retiring, Ben spent several years working with Mission to the World and served on the Associate Staff doing short term mission trips. His favorite memory was being present when the Dios Con Nosotros PCA Church in McAllen, Texas was dedicated and he was presented a Certificate of Appreciation for services rendered. He loved talking about the youth mission trips to Jamaica and Mexico and how special the groups were.
Ben spent lots of time in his life making or fixing things, from building a dragster and racing with a group of friends in the'50's to remodeling a kitchen, building cabinets and finishing a cabin on the river in the 80's. He was a good auto mechanic and restored several wrecked cars in the early years of the girls driving.
Ben was privileged to be a member of the Bay Area Presbyterian Church and felt a close association with the congregation and staff.   Ben loved the Lord and through his long illnesses he relied on the promises God gives to His children. His faith never wavered.
The Family will receive friends Monday evening, Feb. 12th, from 6:00 to 8:00 PM at Crowder Funeral Home, 111 E. Medical Center Blvd., Webster, TX.
Funeral services and reception will be conducted at Bay Area Presbyterian Church on Tuesday, Feb.13th at 10:30am followed by interment at the Forest Park East Cemetery on the Gulf Freeway, Webster, TX
In lieu of flowers and those desiring, memorial contributions in Ben's name may be made to Bay Area Presbyterian Church, 670 E Medical Center Blvd., Webster, TX 77598.