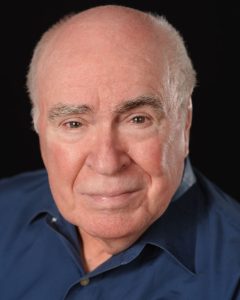 Bennett T. Wood, a longtime Memphis advertising executive, writer, actor, director and creative force in the local theater community, passed away peacefully in his sleep on September 3, 2023. He was 91.
For 37 years, Bennett excelled both as a copywriter and as an executive for a number of Memphis advertising agencies, including Greenhaw & Rush, Caldwell/Bartlett/Wood, John Malmo and Archer/Malmo.
He handled a countless number of advertising accounts over the years and was known for his gift for words.  A local pasta company once asked Bennett and a colleague to come up with a marketing campaign. Their solution – "Ronco: That's Italian for Good Eating."
Bennett's true passion, however, was the theater. Beginning in the 1950s, he acted and directed in the Memphis Shakespeare Festival and at Rhodes College, Front Street Theater and Ballet Memphis.
He had a special love for Theatre Memphis. He began as a volunteer in 1952 when it was known as Memphis Little Theatre, and for nearly 70 years he was involved in every aspect of its work.  He directed 23 productions and often was involved in stage management, scenery building and lighting. Bennett served for over 30 years as a Theatre Memphis Board member. He also served as editor and was one of the writers of the book commemorating Theatre Memphis' 75th anniversary.
As an actor, Bennett performed in over 120 productions in the community, including 70 at Theatre Memphis. He also appeared in a number of movies and television shows, including "The People vs. Larry Flynt," "A Real American Hero" and "The Old Forest."
Rhodes College also was a beneficiary of Bennett's talent and commitment. From 1956 to 1960, he acted with and directed the Center Players.  From 1986 until the late 1990s, he performed in three productions and directed four, and he also created and directed musical revue benefits that raised funds for the college's McCoy Theatre. Bennett later taught musical theater at Rhodes, and in 1998 he was the author of "Rhodes 150," a book celebrating the college's 150th anniversary.
Working with Memphis filmmaker Willy Bearden, Bennett did voice-over narration for a number of documentaries. His voice can still be heard in films playing in museums in Memphis and through the Mid-South, including the Cotton Museum, the Elvis Presley Birthplace Museum and the Tunica River Museum.
Bennett received many awards and honors throughout his life. In 1975, he won a national award from the Festival of American Community Theaters for directing Schubert's Last Serenade. In 1993, he received the Eugart Yerian Lifetime Achievement Award from the Memphis Ostranders for his service to Memphis theater. In 2003, Memphis Callboard named him one of five people who had most impacted Memphis theater over the past two decades.  And in 2011, his work earned him the Robert E. Gard Superior Volunteer Award from the American Association of Community Theatre.
Bennett Taylor Wood was born July 12, 1932, in his paternal grandparents' home in Mooreville, Mississippi. His parents were Ben Tillman Wood, a streetcar driver, and Charleen Taylor Wood, a homemaker.
When Bennett was a child, the family moved to Memphis. He would attend Messick School through the 12th grade.
As a boy, Bennett was an avid reader. He especially loved adventure stories – Robert Louis Stevenson, the Hardy Boys and Richard Halliburton's travels. He also was a Boy Scout.  And it was while Bennett was a boy that he first developed his love of cats. Throughout his life he always had a cat as a companion at home.
When Bennett was in high school, the family moved to a new home on Goodman Street. There also were two surprises. A sister named Elizabeth Ann was born in 1948, followed by another sister, Linda Marie, in 1950.
While at Messick, a speech teacher named Freda Kenner inspired in Bennett an appreciation for the performing arts.  Alice Rogers, an English teacher, also served as a mentor to him. As a result of her encouragement and help, Bennett received a scholarship from Yale University and graduated with a bachelor's degree in English.
Bennett returned to Memphis after college. Other than serving in the U.S. Army for a few years in the early 1950s, he would live in Memphis until December of 2022, when he moved to League City, Texas, to be close to his sister Liz.
Throughout his life, Bennett maintained a close-knit circle of friends from his theater work, including Walter Smith, Jerry Chipman, Barry Fuller and Stephen Pair. They loved to travel together, especially to Canada to the Stratford Shakespeare Festival and the Shaw Festival. Bennett also enjoyed trips to Europe.
Bennett is survived by his sisters Elizabeth Hancock of League City and Linda Kleinworth of Charlotte, N.C.; by his cousins Laura Helms of Crawfordsville, Arkansas, Sue Taylor of Memphis and Allayne LaValley of Brunswick, Ga.; and by numerous nieces and nephews.
The family would like to express its appreciation for the care, support and love provided to Bennett by his friend and attorney Lynn W. Thompson; his friend Stephen Pair; his cousin Sue Taylor and her husband Marc; Lou Lee Cobb of ElderCare in Memphis; and the staff at the Delaney at South Shore in League City.
Those wishing to honor Bennett are invited to make a donation to Theatre Memphis online at https://theatrememphis.org/donate or by mail at 630 Perkins Extd., Memphis, TN 38117.
All his life, Bennett was a man of intelligence and talent. Most of all, he was a person of gentleness and grace. He loved Memphis. He loved Theatre Memphis and Rhodes College. He loved acting and directing and everything to do with the theater. Most of all he loved his family and friends.
Bennett will be deeply missed by all who knew him.