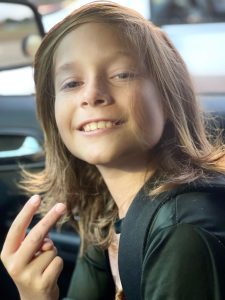 Benjamin Alan Dennis -AKA- Benjamin FOX, 9 years old with a heart of gold.  He and his little animal sanctuary were bringing life & love to San Leon, TX.  On September 11, 2023 he changed his status from rescuer to an angel in the heavens above.  This little fox was born on January 1, 2014 and spread his love to every person or animal he could until he was called home on September 11, 2023.  He had a beautiful spirit surrounded by love and family that grew with every smile.
He was a lively active little fox in the 4th grade at Lobit middle school in Dickinson, TX where he was surrounded by many friends and very supportive staff.  He glowed and lit up every room keeping everyone on their toes and laughing.  He IS golden.
He was born again by the San Leon Community Church on September 7th and became one of gods little workers.  He aimed to be a game warden and mechanic and had to rescue and help everyone and everything.
With his heart he is surrounded by his rescues and family that grew just out of his love.  He leaves us in charge of all his babies including his 6 dogs (Champ, Skitty, Trouble, Lil Bit, Chi Chi, & Coco), 4 Cats (Briley, Midnight, & Shadow, and Halo), Marshall the ferret, Bowser & Baby our pink caramel slider turtles, Charlie his beautiful snake, and two fish. This is how much his love is!
He is survived by his mother Sarah Elisabeth Touchet of San Leon Tx, father Benjamin David Dennis of Welaka, FL,  along with extended family on father's side, step-father Neil Crossno of San Leon.  He has five beautiful siblings: Hunter James Touchet of Ocala,
Fl, Logan Ray Touchet of Ocala, Fl, & Savannah Beth Dennis of San Leon, TX, Aramis Dennis & Aries Dennis of Welaka, Fl. He also has two wonderful grandparents Rebecca Staley of Milford OH and Constance Dennis of Satsuma FL.  However, this little fox couldn't just stop there.  He shared the love to everyone he knew including his precious little girlfriend Ava Marchesini, and he extended his family including Uncle Terry Utton of San Leon, TX, Uncle Robert Villarreal & Wife Ravyne Storm of San Antonio TX, Aunt Audrey Polgar of Crescent City FL, Cousin Chloe Polgar, of Crescent City, Grandmother Nancy Suffield of Atlanta Ga, god-parents Michelle Jackson & Heather Brown & Corey Perdew of San Leon TX.  He has many angels & otters watching over him and his loved ones.
To show the love of his beautiful spirit we are hosting a visitation for immediate family on Friday September 22, 2023, from 5-6pm and guests from 6-8pm at Crowder Funeral Home.  Services  and open viewing will be held at San Leon Community Church at 4:30pm Sunday 24, 2023.  Followed by transporting to his site of rest.  We request as many as can come.  All are welcome as that would be what little fox wishes.  We have ears for all to wear to show his spirit so please bring your inner fox out and come join us as we celebrate his life and love.
Pallbearers are as follows: Terry Utton, Brett Thiery, Corey Perdew, Robert Villarreal, & Neil Crossno
Services Provided by Pastor Rick of San Leon Community Church