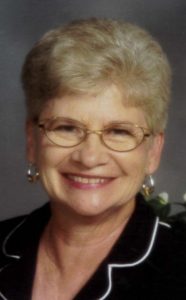 Barbara Muesse Klyng (81) of La Marque, Texas, passed away on Friday, April 14, 2023. She was born in La Grange, Texas on January 18, 1942 to Juanita and Edgar Muesse.
Barbara was a longtime resident of La Marque and worked as a secretary for La Marque ISD.  She was a Drum Major at La Marque High School and was in the Class of 1960.  Barbara was a former member of Trinity Lutheran Church where she was the organist. She was a member of Faith Lutheran Church in Dickinson and played in the Bell Choir.  Barbara loved spending time with her grandchildren and great grandchildren especially at the lake house on Lake Somerville. She assisted with countless 4th of July trail rides in Round Top, Texas and never missed the chance to attend her grandchildren's soccer matches, football games, dance recitals, and high school and college graduations. She was so devoted to her family that she often traveled out of state to attend these functions. Barbara always put others first with her kindness and generosity.
She is preceded in death by her mother and father. Barbara is survived by her husband of 61 years; James E. "Jimmy"  Klyng, Sr., daughter; Belinda Eason (George), sons; James "Jimmy" Klyng, Jr. (Karla) and Kerry Klyng, brother; Allen Muesse, five grandchildren; Katie Samara, Christopher 'Chris' Klyng, James 'Trey' Klyng III, Hannah Eason and Grace Eason and two great-grandchildren; Sophie Klyng and Kinsey Klyng.
A visitation will be held on Friday, April 21, 2023 from 6:00pm – 8:00pm at the James Crowder Funeral Home in La Marque. A funeral service will be held at 1:00pm on Saturday, April 22, 2023 at the James Crowder Funeral Home, with Pastor Paul Appel and Pastor C. O. Magee officiating.  A grave side service will follow at Forest Park East Cemetery in Webster, Texas.
Pallbearers will be Jimmy Narvaez, Eddie Kelly, George Gates, James "Trey" Klyng, III, Tom Morton and George Eason. Honorary Pallbearers are Katie Samara, Hannah Eason, Grace Eason, Sophie Klyng, Kinsey Klyng and Christopher Klyng.
The family suggests memorials to the home where Barbara's brother Allen Muesse resides at A Divine, 9927 Sageroyal Lane, Houston, TX 77089.