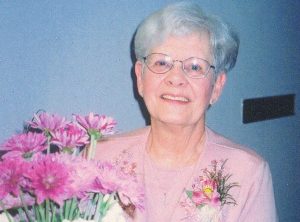 Barbara Wright, of Kemah, Texas, passed away in her sleep after a brief illness on Wednesday, August 31, 2022 at her home in Kemah surrounded by her loving family.  She was born on August 2, 1934 in Carbondale, West Virginia to Roy Clifton and Madalyn Elizabeth Thompson.
Barbara was a strong believer in Jesus Christ, her Lord and Savior, and a loyal member of New Hope Baptist Church in Dickinson, Texas.  She firmly believed in reuniting in Heaven with loved ones who preceded her in death.  Barbara was a devoted Granny to her grandsons and extended that devotion to her great-grandchildren.  She will be greatly missed by her friends and family.
Barbara was preceded in death by her husband Gene, son Wayne Wright and grandson Jeff Wright.
She is survived by her daughter Bobbie Brown and husband Dave, son Rick Wright and wife Karen, sister Martha Clarke, brother John Thompson, grandchildren Chris Wright, Dan Brown, Wayne Brown, great-grandchildren Gracey Ann Gantt, Jacob Wright, Matthew Wright, Zachary Wright, Moses Brown, Aiden Elizabeth Brown, Sarah Wright and many other loving family and friends.
A Celebration of Life Ceremony will be held at New Hope Baptist Church on Saturday, September 3, 2022 at 10am.
In lieu of flowers, you may send memorials to New Hope Baptist Church,  3610 FM646, Dickinson, TX 77539 and AMED Hospice, 8900 EF Lowry Expressway #102, Texas City, Texas 77591.