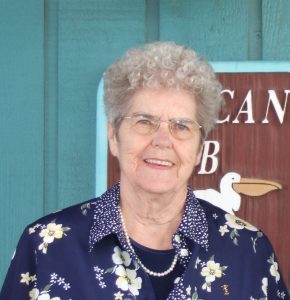 It is with heavy hearts that we announce the passing of Barbara Jean Jannasch at age 91 on December 2, 2022 in Lake Jackson, Texas.
Barbara was smart, compassionate, loving, witty and always spot-on with a clever quip. She was a talented painter and avid learner. She loved and was loved by many people and, no matter the connection, those in her life were near and dear to her heart. Barbara was always kind and good to others. Her legacy is one of love and heartfelt relationships.
Barbara was born to loving parents, Maggie and Quin Peikert, in Luling, Texas. Known as "Babs" as a child, she enjoyed a happy childhood riding her horse, Honey, in open pastures and driving her Model T, filled with friends around town. She adored her younger brother, Bill and his family. Barbara was also blessed with a throng of loving aunts, uncles, in-laws and cousins.
Barbara obtained her teaching degree from Southwest Texas State Teachers College in San Marcos. It was there she met her husband-to-be, Louis William Jannasch Jr. They married in 1952 and moved to Lou's hometown, Galveston, where she was welcomed into the loving fold of Lou's extended family. Barbara dearly loved and enjoyed Lou's side of the family.
Lou and Barbara moved to La Marque in 1954 to raise their three children, Michael Quin, Caryn Beth and John Daniel. The budding neighborhood, with its young families, was a source of enduring friendships for Barbara and her family.  Barbara also had a bridge club and painting group that met regularly for over 20 years. She left behind a collection of beautiful oil and watercolor paintings. The First Baptist Church of La Marque was also a special community to Barbara and Lou. They traveled the United States and Europe with their church friends.
Barbara and Lou's large backyard was a frequent meeting place for friend and family events, celebrations, barbecues, fish fries and crab boils. Her Christmases were legendary.
After a loving marriage of 57 years, Lou passed away in 2010 and Barbara moved to Surfside Beach, Texas. She lived in her beach house with her dogs, Tater Tot and Hannah, and cat, Sonny Boy. Barbara moved to Sodalis Senior Living in Lake Jackson in 2018. She met new friends and felt tremendous appreciation and love for her caregivers and new friends.
Barbara was grandmother extraordinaire to Michael's children, Jason, Kimberly and William and Danny's children, Kevin and Melinda. Her house was home away from home to her grandchildren. They enjoyed special times and many adventures together, including an annual stay on the Blanco River at 7-A Ranch in Wimberley.
Barbara also had the pleasure of great grandchildren, Kora, Kai, Edith and Arthur.
Barbara had loving relationships with her daughters-in-law, Terri Jannasch (Michael), Sharon Whiteley (Caryn) and Carolyn Jannasch (Danny) and their families. She loved her grandchildren's spouses, Chris (Kimberly), Kacie (Kevin) and Zach (Melinda).
She was a loving step-grandmother to Terri's daughters Misty and Brandi and great-grandmother to Misty and Chuckies' children, Collin, Lexi, and Kayson.
Barbara will be greatly missed and we were very fortunate to have had her touch our lives.
The family wishes to acknowledge the kind, loving and dedicated support and care from the staff at Sodalis of Lake Jackson. They enhanced her life and her family's life in profound ways and she loved and appreciated them very much.
A visitation will be held on Wednesday, December 7, 2022 from 1:00pm – 2:00pm at the Crowder Funeral Home in Dickinson (851 FM 517 Rd. West, Dickinson, TX 77539). A funeral service officiated by Jerry Esmond will begin in the chapel at 2:00pm followed by an interment at Forest Park East Cemetery.
In lieu of flowers, remember a happy time with Barbara. Hug someone you love and spread her kindness and generosity to someone in need.