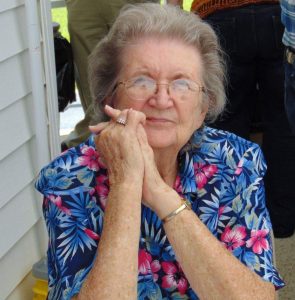 Barbara Jean Heileman, 84, of Dickinson, passed away April 17, 2019, in Texas City.  Barbara was born December 14, 1934 in Galveston, Texas and raised by Margaret and John Gillespie.  Barbara will be remembered as a kind loving mother, grandmother, and great-grandmother.
She was preceded in death by her parents and her loving husband of 57 years Samuel J. Heileman.
Barbara leaves behind to cherish her memory her daughter Suzanne Heileman; son James A. Heileman; grandchildren Nathan (Jessica) Heileman, Candice Daniel, and Matthew D. (Nancy) Heileman; and great-grandchildren Matthew J. Heileman, Selah Heileman, Evan Daniel, Judah Heileman, and Liliana Rodriguez.
A visitation in her honor will be held 9:00 – 10:00 am, Saturday, April 20, 2019, with a funeral service at 10:00 am, at Crowder Funeral Home, Dickinson, Texas.  Interment follows at Hayes Grace Memorial Park, Hitchcock, Texas.
Honored to serve as pallbearers are Tommy Clark, Stephen Clark, Matthew D. Heileman, Matthew J. Heileman, Michael M. Rodriguez, and Michael S. Rodriguez