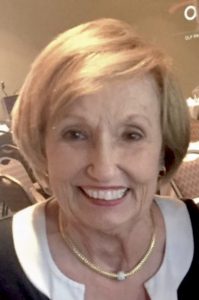 Barbara Jean Buchholz Dorman, 75, of Houston, Texas, formerly of Plainview, Texas, passed away on Saturday, March 17, 2018.  She was born February 4, 1943 in Cincinnati, Ohio to Martha (Zerfey) and Robert Buchholz.  After graduating from Woodward High School in Cincinnati, where she was the editor of the student newspaper, she pursued a bachelor's degree in nursing at Vanderbilt University.  On a dare, she snuck into the anatomy lab (where nursing students were not allowed), and met medical student John Wesley Dorman.  She and John were married July 17, 1965, after Barbara was graduated from Vanderbilt University School of Nursing.  They settled in Plainview, Texas, where John established his medical practice and Barbara became immersed in the community and volunteer work. Barbara served on the Plainview City Council for 12 years, and was instrumental in establishing the Hospice of the Plains and the Hale County Crisis Center.  She was a natural leader, having served as President-Elect of the Texas Municipal League and as President and Board Representative to the Texas Association of Mayors, Councilmembers and Commissioners.
Barbara loved Plainview and devoted herself to making it a better place to work and live.  Because of Barbara, Plainview has Kidsville, a community-built playground in the Running Water Draw Regional Park.  She was one of several community leaders who helped convince Wal-Mart to select Plainview over neighboring cities, for the distribution plant that now employs hundreds of people.  She also started Plainview's Teen Court Alternative Justice System.  She was named Plainview's Woman of the Year in 1980.  In 1992, KVII-TV in Amarillo honored her with a "7 Who Care" award.  In 1996, then-Governor George W. Bush appointed her to the Midwestern State University Board of Regents, where she directed her energy into supporting the Wilson School of Nursing. She was inducted into the Xi Iota chapter of Sigma Theta Tau International, Inc., the honorary society for nursing, in 2002.  She was initiated into the PEO Chapter CZ in Plainview, and was later active in PEO chapters in Amarillo and Houston.  She was a member of Grace Presbyterian Church in Plainview, where she also served as an elder.
Barbara was preceded in death by her parents.
She is survived by her husband of 52 years, John; daughter Melissa Dorman Matthews and husband Randy Matthews of Plano; son John Wesley Dorman, Jr. and wife Catherine Henry Dorman of Houston; grandchildren Abbey Elizabeth Dorman and John Wesley Dorman III, of Houston, and brother Robert Buchholz and wife Nancy, of Nicholasville, KY, and their three daughters and their families.
A memorial service will be held Saturday, March 24 at 2 p.m. at First Christian Church in Wichita Falls.  In lieu of flowers, Barbara would have been grateful for contributions to be made to support student scholarships at the Wilson School of Nursing at Midwestern State University (www.mwsu.edu/, click "Give to MSU"), or to the City of Plainview for the benefit of Kidsville, 901 Broadway St., Plainview, TX 79072.