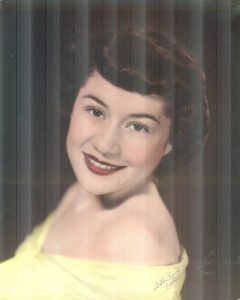 Aurora Salinas, 83, passed away on June 17, 2017 in Houston, TX. She was born on December 18, 1933 in Houston Tx to Manuel Hernandez and Louisa (Romo) Hernandez.
Aurora is survived by: her Husband Julio Salinas: daughters, Sandy Molbert spouse Ricky , Julie Dittman spouse John; Grandchildren Rhea Ibarra spouse Joey, Ricky Molbert Jr spouse Nikki, Luke Dittman, and Melanie Dittman; great grandchildren Brianna Ibarra, Maxx Ibarra, Loral Molbert, and sisters: Carmen Fuentes, Dolores Garza, and Alice Zapata, and brother Roy Sanchez and countless other family members and friends.She had a passion for family and loved traveling and cooking.
A memorial service  will be held on Thursday, June 22, 2017 at 4:00 pm at Crowder Funeral Home, 111 E. Medical Center Blvd.,  Webster, TX.