Aurelia "Rusty" Henderson Searcy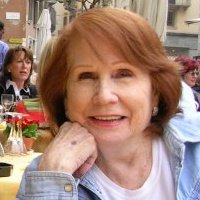 Aurelia "Rusty" Henderson Searcy, 88 years of age, of Austin, TX passed away at her home of complications of late stage Vascular Dementia on January 19, 2015 at 12:13pm. She was the second child born to Aurelia Anne Butler Henderson and Edgar Baum Henderson, Sr. in Vicksburg, Mississippi on January 18, 1927. Rusty has three siblings – Edgar Baum Henderson, Jr., Frank "Sonny" George Henderson, and Shirley Jean Bynum, all of Houston, TX. In Rusty's early years, she and her family spent some time living on O.S.T. Acres in Houston. She has shared many wonderful memories of growing up on that property with family and friends. Her loving parents made life so magical for her and her brothers and sister.
Rusty was a member of the 1944 graduating class of Milby High School in Houston, Texas. She served as a Sergeant in the Milby Drum and Bugle Corp and retained her drumming skills throughout her life, performing for her family on occasion. One of Rusty's first jobs was as a reporter for the Houston Press newspaper where she wrote a column about the servicemen in WWII. She was also the envy of all her girlfriends when she was given the opportunity to interview Hollywood actor Gary Cooper over breakfast. After school, Rusty chased her dreams of a modeling/acting career by moving to Hollywood, California where she roomed with her faithful friend, Dorothea 'Dottie' Faus and worked as a receptionist for the William Morris Agency.  During her tenure with William Morris, she made friends with many well-known movie stars and music legends including Gary Cooper, Van Johnson, Glenn Ford, Les Paul, Rita Hayworth, Al Jolson (who danced her around the lobby whenever he came through), and many others. She loved that job, but felt something was missing from her life. She had a reoccurring dream of a tall, dark, handsome man that she was to marry and decided to return home to Texas to find him.
She and some girlfriends decided to make a trip to a dude ranch in Bandera amidst the beautiful Texas Hill Country, where a young, tall ranch hand named Glen Searcy caught her eye. She often said "he had a goatee and looked like Satan himself. I would have married him that very night." They married five months and a day after they met. The couple came back to Houston and was married on September 30, 1950 at the Central Church of Christ. They shared 59 beautiful years of marriage together before Glen's passing in 2010.
Rusty and Glen had five children: Glen Albert Jr. ('Cowboy'), Gregory Sterling ('Skeeter'), Debra Dorothea, Tammy Jean and Juana Shaye.  Life at the Searcy home was filled with baseball, football, basketball, trips to the zoo, dance classes, church services, many LARGE family gatherings and summers at the Searcy farm in the hill country.
Rusty loved nothing more than seeing her family expand. When her children married and began their own families she was beside herself with joy and happiness. Grandchildren arrived in short order and she answered to 'G'Mama' by Julie Annette in 1973, Natalie Marie in 1976, and Blake Sterling in 1980.  Taylor Ray came in 1988 and changed her moniker to 'Nonny', Dylan Flenniken in 2007 and Samantha and Kyle Frazer in 2009.  She also became a great-grandmother to Aiden Michael in 2001, Avery Elizabeth Anderson in 2006, Jackson Sidney Cauthen in 2004, Reese Sterling Cauthen in 2006, Briggs Sterling Searcy in 2011 and little Sloane Emerson Searcy in 2013. She will be lovingly remembered as a sweet grandmother and great-grandmother who loved her family with all her heart and was fiercely proud of each and every one of them.
Although motherhood was very fulfilling to her, Rusty had a desire to be a working professional. She pursued her license in Real Estate and started her own company, Rusty & Co. Realtors, in January of 1970. While a Realtor, Rusty became very active in Women's Council of Realtors serving as 1975 president and 1976 woman of the year. She loved the travel and public speaking those roles provided her.
One other great love that Rusty had was football. She maintained a season ticket in the Houston Astrodome for many years and was considered by Bum Philips to be the #1 Houston Oiler fan. She made many friends with players and coaches alike and was considered family by some she held dear. When the Oilers left Houston, Rusty transferred her focus to the Houston Texans but remained a loyal and dedicated fan of football to the end of her life.
Rusty was preceded in death by her husband Glen Albert Searcy, Sr., her parents Aurelia and Edgar Henderson, Sr., her son-in-law Ethan Atkinson, daughter-in laws Sheryl Price Searcy and Tammy Lynn Searcy, her brother-in-laws Elmo Searcy, George Searcy, Alanson 'Dickie' Bynum, and her sister-in-law Ima Jean Stevens. She is survived by her children: Glen Searcy and wife Sabrina, Greg Searcy, Debra Searcy Frazer and husband David, Tammy Searcy Dupree and husband John, and Juana Searcy and wife Melissa. She is also survived by grandchildren: Julie Anderson and husband Eric, Natalie Alvaro and husband Stephen, Blake Searcy and wife Shannon, Taylor Skains and wife Carey, Samantha and Kyle Frazer, and Dylan Flenniken. Also survived by her siblings: Ed Henderson and wife Shirley Mae, Frank Henderson and wife Mary Jane, her sister Shirley Bynum and many nieces and nephews.
There is a family visitation at the Crowder Funeral Home scheduled on Friday, January 23, 2015 from 5:00-8:00pm. Funeral services to celebrate her life will be held Saturday, January 24, 2015, at 1:00pm with graveside services to immediately follow at Forest Park – Lawndale, 6900 Lawndale St., Houston, TX 77023.  After the graveside services, there will be a reception immediately following at the Southeast Church of Christ on xxx Bay Area Blvd., Friendswood, TX . For further information please contact Tammy Searcy Dupree at 713-828-3802.
Glen Jr, Greg, Debye and Tammy would like to send a deeply heartfelt thank you to our youngest sister, Juana and her wife Melissa, for the selfless sacrifice they made – opening their home to our parents in 2009 and becoming their primary caregivers for the past 6 years.  Juana and Melissa went above and beyond to ensure our parents had a safe, loving home to live out the remainder of their lives and we will be eternally grateful to both of them for what they did for Mama and Daddy.
To our mother, who taught us all so much and loved us so fiercely, our hearts are heavy because you have gone but we rejoice in the fact that you are finally home, holding Daddy's hand and rooting for us from the high seats.  Until we meet again, we love you….
Donations can be made in Rusty's name to your local 'no-kill' animal shelter.