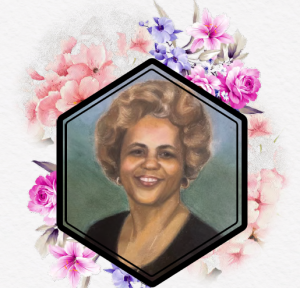 AUDREY MAE BOURGEOIS departed this life December 8, 2022. She was born August 3, 1934, to the late Alberta Robinson and Gillis Bourgeois in New Orleans, LA. She and her brother, the late Gillis "Pa" Bourgeois, Jr. were raised in New Orleans, LA. She grew up as a member of The Amozion Baptist Church where she served as a choir member. Later she became a long-time member of the Greater St Stephens Full Gospel Church until having to relocate because of Hurricane Katrina in 2005. After moving to Texas, she became a member of the Christian Tabernacle Church and more recently was a proud member of Abundant Love Christian Center in Webster, Texas. She was educated in New Orleans where she graduated from Joseph S. Clark High School and played softball. Audrey was blessed with a heart of gold, a wonderful spirit and no known enemies. Mama was affectionately called "Mamoo" and "Grammy" by her grandchildren.
Audrey leaves behind her Daughter Dr. Yolonda Marie Bourgeois (Gerald) Franklin, her sons Warner Anthony Bourgeois and Wardell Raymond (Marlo) Bourgeois, Sr.; Sister-in-law Marilyn Bourgeois, Sister Connie Richardson (Billy) Hubbard, nephews Randy Bourgeois, Sr., Billy Ray Hubbard, Jr., nieces Dionne Bourgeois, Gilda (Jerome) Walker, Renita Bourgeois (Larry) Reed, Rev. Bianca J. Richardson, Grandchildren, Wardell Raymond Bourgeois, Jr., Maci Marie Bourgeois, Gerald Sheldon Franklin II and Jared Christian Franklin and a host of additional family members and friends. She is preceded in death by her brother, Gillis Bourgeois, Sr., and nephews: Gillis J. Bourgeois, Jr. Patrick Bourgeois, and Todd Bourgeois.
Relatives and Friends are invited to attend a Funeral service at Crowder Funeral Home 111 E. Medical Center Blvd, Webster, TX 77598 Thursday, December 15, 2022. The Visitation will be held from 9:00am to 11:00 am, service to begin promptly at 11:00 am. Relatives and Friends are also invited to attend a Final Resting Place grave side service at St. Roch Cemetery # 2, 1725 Music St, New Orleans, LA 70117 Saturday, December 17, 2022, Visitation 9:30 am to 10:30 am, Service to begin promptly at 10:30 am.