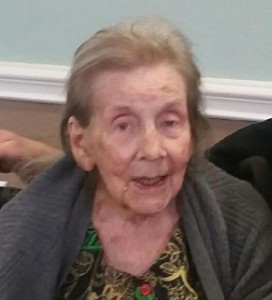 Audrey Eileen Kjorlaug, 94, a longtime resident of Dickinson, passed away October 22, 2015. Audrey was born March 10, 1921 to Melkeor and Ellen Kjorlaug in Minneapolis, Minnesota. She was preceded in death by her parents; brother, Clark Riegel Kjorlaug and his wife Patricia and a nephew Chistopher Clark Kjorlaug.
Audrey is survived by her nieces Suellen Kjorlaug Milton and husband Tam and Linda Kjorlaug; nephew James Patrick Kjorlaug and wife Alesia; 12 grand nieces and nephews; 8 great grand nieces and nephews.
Graveside services for Audrey will be held 10:00 am, Saturday, October 24, 2015 at Forest Park East Cemetery, Webster, TX under the direction of Crowder Funeral Home, Dickinson, TX.
In lieu of flowers donation may be made to the United Way in Audrey's Memory.