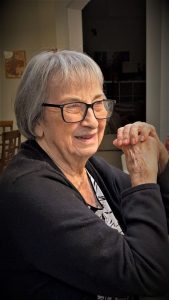 Aubrey ('Bobbie') Newman passed away peacefully with family members on June 16, 2023.  Born Aubrey Jean Doty in September of 1928, she was the daughter of the late Walter and Aubrey (Doty) Kerr. Bobbie was married to her late husband Henry Newman for 52 years.
She grew up in Orange County and attended Fullerton High School, graduating in 1946.  It was there she met her future husband, Henry Newman, where she invited him to a Sadie Hawkins dance.  They later married in 1948.  Bobbie was also an artist, worked retail, but most importantly, she was a remarkable wife and mother.
Bobbie was a beautician out of high school, a long-time employee of Sears, volunteer cafeteria server at a local elementary school, and 'retired' to become a full-time and devoted wife and mother.   She loved quilting, sewing, painting, reading, travel and a true zest for life. Bobbie loved dogs and in lieu of flowers, donations can be made to your local animal rescue center in her name.
She is survived by her two children: Randall Newman, Pearland, TX (wife Melody, grand-daughters Lesley (husband Mark) and great granddaughters Caprice and Shayne; grand-daughter Melissa and great granddaughters Chase and Danielle); son Theodore Newman (wife Carolyn) of Lake Havasu City, AZ plus grandson Christopher and great granddaughters Jesse, Hannah; great grandsons Logan, Cooper, Wilder and great-great granddaughter Aurora.
Bobbie is further survived by her older sister Mary Smith (Bend, OR), younger sister Sandra Craton (Hood River, OR) and younger brother/daughter-in-law David and Janice Kerr (San Diego, CA).  Extended family consists of numerous nieces, nephews, and cousins.
Our family would like to thank the HCA hospital system, ER, and Hospice teams in Pearland for their compassionate care during Bobbie's short stay. We would also like to thank all our family and friends for their support and prayers, specifically Aunt Mary, Aunt Sandy, Uncle David, Aunt Janice, and Bob/Shelley Tucker who spent their long-distance telephone time with Mom prior to her passing, making her feel very loved.
She would love to be remembered with funny, strange, or silly stories that celebrate what was good and blessed in her life. As a woman of faith, Bobbie wished to have a simple goodbye and a prayer to celebrate the immortality promised to all by Christ. Her life was a living example of the Bible verse, Ephesians 4:32 — "And be kind and compassionate to one another, forgiving one another, just as God also forgave you in Christ."
Graveside will be Friday, July 7, 2023 at 1:00 p.m. at Conejo Moutain Memorial Park Cemetery in  Camarillo, Ca.