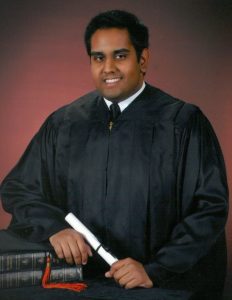 Ashneel "Ash" Sharma, 27, of Texas City, passed away Saturday, March 3, 2018, in Dallas. He was born in Galveston, Texas, to Anil Dutt Sharma and Reshmi Dutt.
Ash is survived by his parents; sister Ashlene Sharma; brother Rakesh Dutt Sharma(Joanna); grandparents, Ram and Daya Sukal, Shiu Lata and Prem Chand, aunts Reena Langdon(Randy), Kiran Olivo(Joe), Sareen Karan (Bob), Suman DeVasier (Brian), Madhu Dutt, Roshni Rahiman, Amanda Jewell, Uncle Anish Chand (Julie) numerous cousins and friends.
Pallbearers will be Rakesh Sharma, Randy & Lance Langdon, Bob & Christopher Karan, Brian and Nicholas Devasier and Anish Chand.
A visitation will be held from 5:00pm to 8:00pm, Wednesday, March 7, 2018, at James Crowder Funeral Home in La Marque. Services will be held at 1:00pm Thursday, March 8, 2018, at the funeral home. Interment will follow at Mount Olivet Catholic Cemetery in Dickinson Texas.