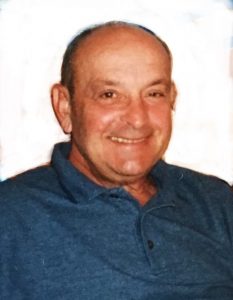 Arthur Robert Vernino was the youngest of ten children, born of Italian immigrants Angelo Vernino and Dominica Ferrante. He was born and raised in the rural coal-mining town of Crabtree, Pennsylvania. He married Patricia Kennedy in Chicago, Illinois on February 20, 1965. They had three children: Steven, Diane, and Nancy.
Arthur attended Greensburg High School in Greensburg, Pennsylvania. He attended St. Vincent College in Latrobe, Pennsylvania, obtaining a Bachelor Degree in Biology with a minor in Theology. He then studied at the dental school at the University of Pittsburgh, receiving his DDS in 1960. Upon completion of dental school, Arthur served in the United States Navy for 21 years. During his military service, he completed a one-year fellowship and two-year residency in Periodontics. In 1981, he retired from the Navy at the rank of Captain and moved his family to Edmond, Oklahoma. There, he joined the faculty of the University of Oklahoma College of Dentistry where he created and directed the graduate program in Periodontics. After 19 years at the University of Oklahoma, Arthur again retired, and he and Pat moved to Leesburg, Florida.
Although twice retired, Arthur worked several years at Disney World and volunteered in the graduate periodontics program at the University of Florida. In his free time, Arthur enjoyed playing golf and bocci. He also continued his life-long love and mastery of gardening. His backyard garden produced oranges, lemons, figs, avocados, pineapples, grapes, beans, asparagus, tomatoes, and snow peas. He enjoyed sharing his crops with his neighbors.
Arthur was an active member of St. Paul Catholic Community in Leesburg, Florida, where he served as an usher for 17 years. He also volunteered at the Parish thrift store. Arthur was a Third Degree member of the Knights of Columbus.
Arthur's health began to decline in 2017 when he was diagnosed with kidney cancer requiring major surgery. To be closer to family, he and Pat moved to the Clear Lake area of Houston, Texas in 2018. For the past 8 months, Arthur's daily care has been supported at Lightheart care home, where his wonderful caregivers helped him through several setbacks. After overcoming many complications, Arthur was finally called to God on May 17, 2019 at 5:32 am. He was 84 years old.
Arthur is preceded in death by his parents, Angelo and Dominica; sisters Carmela, Mary, and Ann (Guzik); and brothers Nujay, Tony, Rocco, Dan, and Mike. He is survived by his wife, Patricia Vernino; his children, Steven (and Jennifer) Vernino of Dallas, TX, Diane (and Gregg) Bennett of Hudson, WI, and Nancy (and Kevin) Lawson of Houston, TX. He also leaves behind his sister, Genevieve Malenic of Youngstown, Ohio. Also survived by 11 grandchildren; Nathaniel, Hannah, Julia and Jonathan Bennett, Christopher, Megan and Alexandra Vernino and Andrew, Samantha, Jessica and Stephen Lawson.
The family will greet guests at Crowder Funeral Home, 111 E Medical Center Blvd, Webster 77598, on Monday, May 27, 2019 from 5-8 pm, with a rosary at 7:00 pm. A funeral mass will be held at St. Clare of Assisi Catholic Church, 3131 El Dorado Blvd, Houston 77059, on Tuesday, May 28, 2019 at 9:30 am, followed by a reception. A graveside military service will be held at 1:00 pm at his final resting place at The Houston National Cemetery, 10410 Veterans Memorial Dr, Houston 77038.
In lieu of flowers, donations may be sent to St. Clare of Assisi Catholic Church (3131 El Dorado Blvd, Houston, TX 77059) or St. Paul Catholic Community Ministry to the Sick (1330 Sunshine Ave, Leesburg, FL 34748).