Arthur R. "Bobby" Gonsalves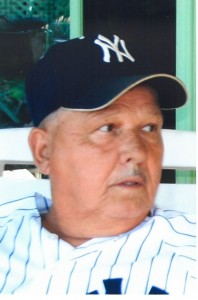 Arthur R. "Bobby" Gonsalves, 71, of Texas City, Texas passed away Thursday, July 21, 2016 doing what he enjoyed the most, working in his backyard surrounded by his animals. Bobby was born February 3, 1945 in Newport, Rhode Island and had been a resident of Texas City for 26 years.
Bobby is preceded in death by his parents Frank and Margaret Gonsalves, brother Mike Gonsalves, and son-in-law Joe Dykhuizen.
Survivors include his loving wife of 24 years Barbara Nye Gonsalves, two sisters; Pege Lama and  (Ruth Henderson) of Newport, RI and Doris and husband Lynn Cole of Texas City; brother Fred and Christine Gonsalves of Tiverton, RI.;  sons; Kenneth and Susan Preble of Texas City and Robert Gonsalves of Seattle, Washington; daughters; Gina of Newport, RI, Sherri and Albert Keener of Texas City, Shirley Mulcahy of Tiverton, RI; Tami Thomas of Texas City and Michele and Scott Gaudet of Texas City; 15 grandchildren and 7 great grandchildren, also several nephews, nieces and cousins.
Bobby was a truck driver by trade, traveling thousands of miles around this country that he loved. Bobby loved the New York Yankees and everything about John Wayne. But most of all he loved his wife and family, especially all the kids. He could sit for hours telling stories of his life and making everyone laugh.
Memorial Service will be held at 3:00 P.M. Sunday, July 31, 2016 at Seventh-Day Adventist Church, 102 13th Street South, Texas City, TX.