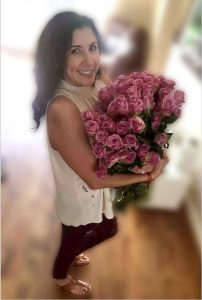 Arcy Cisneros, 50, passed away Monday, March 6, 2023.  Arcy was born March 7, 1972, in Allende, Mexico to parents Elena Sandoval & Juan Cisneros. She grew up in Houston, Texas and attended Robert E. Lee Highschool. Arcy has worked for Dr. Amir at Texas Dental Center for many years. She was a hard worker and loved her job.
Arcy's three daughters were the light of her world and brought her so much joy. She enjoyed traveling, her cats Chuy and Gato, being poolside and always capturing the moment. Even though her daughters were grown, she still put together Easter baskets and family dinners so they could all be together.  Arcy was charismatic, funny, loving, & lived life to the fullest. She was the rock of her family and always had fashion tip to share. Arcy was ambitious, elegant, and inspiring to her three girls. She was always there, no matter who needed her, and supported her girls through everything. She was a friend to all. Arcy had 4 brothers who she loved dearly. There was never a dull moment when they were all together. Family was everything to her.
Arcy was preceded in death by her Fiancé Paul Goodman, father, Juan Cisneros; grandparents, Jose Juan Sandoval, Francisca Perez; and her fur baby Chuy.
Arcy is survived by her mother Elena Cisneros; daughters Gloria Fernandez & partner Jason, Abby Fernandez & fiancé Garret, & Bianca Salazar & husband, Angelo; brothers, Jose Juan Cisneros, Rodolfo Cisneros, Jorge Cisneros, & Luis Cisneros; and many nephews & niece.  
A memorial service will be held in celebration of Arcy's life on Saturday, March 11, 2023 at 2 pm at Crowder Funeral Home in Webster, Texas.