Antoinette "Tonie" Hanson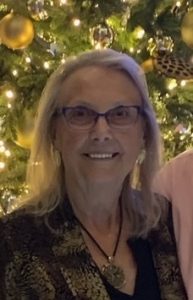 After a long struggle with her health Antoinette "Tonie" Hanson, of League City, passed away peacefully surrounded by family and friends on Sunday, October 8, 2023 at the age of 76. She was born on March 22, 1947 to Harry and Margaret Lorraine (Schweir) Ray and raised in Chesterton, Indiana. She enjoyed growing up in the small town outside Chicago near the Indiana Dunes beach of Lake Michigan where she would go with her friends and family each summer. She was an only child, but played big sister to her many cousins in town. Tonie graduated from St. Patrick Catholic School and Chesterton High School in the class of 1965.
Her next stop was Purdue where she met the love of her life, Gary. His first job brought them to Houston where she began teaching Junior High History class in Spring Branch ISD. They quickly made friends and she started a Bridge group with them that lasted a lifetime. Eventually she enrolled at U of H for her Masters & Doctorate and then began teaching there. While raising her children she began volunteering at St John Vianney doing psych-related sessions on marriage prep and parenting when the pastor approached her about starting a new Family Life ministry, "for meeting needs of families from womb to tomb." Seventeen years later they retired in Galveston county and hoisted anchor to spend a year cruising on Bear With Me around The Great Loop — an adventure of a lifetime!
Tonie will be remembered for her positive attitude and friendly smile. A caring person who enjoyed being a mother to all, including her kids' friends. She enjoyed socializing and decorating for the holidays or a party even if she had to make up a reason. She was an avid reader and made great friends in her book clubs. She was preceded in death by her parents and survived by her husband of 54 years Gary Hanson, son Ian his wife Tara Hanson, daughter Erica Robyn her husband Dustan Brennan and grandkids Lindsey Hanson, Tyler Hanson and Bryan Brennan.
The Family will receive friends on Thursday, October 12, 2023 from 5-8:00pm with a Vigil Service at 7 o'clock at Crowder Funeral Home, 1645 East Main, League City, Texas 77573.
A Funeral Mass will follow on Friday at 11:00am at St. Mary Catholic Church, 1612 East Walker, League City, Texas 77573 with Father John Rooney presiding. A burial service at Mt Olivet Catholic Cemetery in Dickinson will be planned at a later date.
In lieu of flowers, the family requests donations be made to the Alpha-1 Foundation by visiting http://www.alpha1.org/donate or by sending mail to the following address: Alpha-1 Foundation, 3300 Ponce de Leon Blvd., Coral Gables, FL 33134