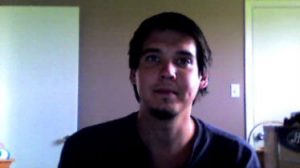 Anthony Paul Brewer II was born on September 17, 1986 at 8:04AM in Nassau Bay, Texas in Christus St. Johns Hospital.  He passed away Tuesday morning May, 19 2020 at the age of 33 years and 8 months where he lived in San Leon, Texas with his parents Anthony Paul Brewer and Yvette Campos Brewer. He was an only child.
He spent half of his academic years being home schooled and the other half attending private schools where he received a Christian Education.  He graduated from Living Faith Academy in 2004.
Anthony had a love for life and the outdoors.  He loved the water and enjoyed living so close to it.  He enjoyed fishing and hunting, he also enjoyed working on cars.  His greatest passion was music. He was self-taught in playing the guitar and found his real talent in playing it.  He enjoyed many different kinds of music and especially enjoyed the more famous guitar players of different kinds of music; one musician was guitarist Stevie Ray Vaughn.  He once prayed for the ability to play as well as Stevie Ray Vaughn and God answered his prayers.
He had a "southern charm" and loved to mimic and speak with a Texas/country draw.  He had a great sense of humor; he loved to laugh and make people laugh and would often use witty one liner's that people came to love him for.
He was a loyal friend and loving son.  He was tender hearted and was someone his friends turned to often for help.  He took on other people's needs and made them his own never asking for anything in return. He will be missed by many as he was loved by many.
He is preceded in death by his Grandfather Arturo B. Campos, his Grandmother Petra T. Campos, Uncle Art Campos Jr. and his cousin Emily Ranck.  He is survived by his parents, aunts, uncles and a multitude of cousins and other relatives.