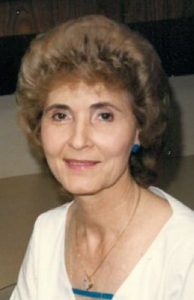 Annie Lanora Burnett, 94, of Texas City, passed away Thursday February 15, 2018, at her residence. Annie was born September 18, 1923, in Bradshaw, Texas, to Rudolph and Nora Fillip.
Annie was a retired PBX Operator, from Monsanto.
She is preceded in death by her parents, five brothers: William "Bill", Dale, Edward, Evert Lee "Phil" and George; three sisters: Maudie, Lydia, Margaret; one granddaughter: Genille A, Stoltenberg.
Annie is survived by one son: Donald W. Stoltenberg, Jr. and wife Corrine B.; two grandchildren: Fernando Cardona and wife JoAnn, Teresa Alexander and husband Ray Don, Sr.; four great grandchildren: Fermamdo Cardona III and wife Areli, Brianna Cardona and Tre' Herrera, Diavian K. Ivory, and Ariana Cardona; two great-great grandchildren Fernando Cardona IV and Zaia A. Herrera, and numerous nieces and nephews.
Private family services will take place at a later date.
In lieu of flowers donations should be made in memory of Annie Burnett goes to the Alzheimer's Association.