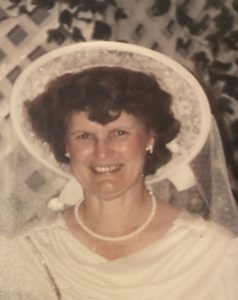 Annie J. Griner (nee Monahan) age 89 of Dickinson, Texas  passed away March 16, 2023 at Mainland Hospital.
She is survived by her husband Paul Griner, sisters Rita Cheevers (Massachusetts) and Gertie Cahalan (Ireland) and many nieces and nephews in the USA and Ireland. She was preceded in death by her parents, sisters Norah, Cecelia, Eileen, and brothers James, Christopher, Thomas, Edward, Jack, and Michael.
Annie was born in Athenry, Galway, Ireland July 11, 1933 and moved to Texas with two of her sisters and began a long career as a teacher educating children at various Catholic schools in the Houston area.
She and Paul married in 1991 and enjoyed many happy years of companionship. Annie was an avid reader and loved to cook for others.
Crowder Funeral Home is in charge of arrangements and services will be on Thursday March 23, 2022 at 11:00am and burial will follow at Mt. Olivet Catholic Cemetery in Dickinson, Texas.