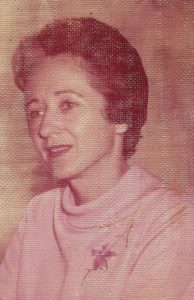 Anna Snyder passed away peacefully surrounded by family and friends on August 11, 2019 at Serenity Gardens in Dickinson, Tx. She was 94 years old.
Visitation is at 11:00 with funeral services to follow at 12:00 on Saturday, August 17, at Dickinson First United Methodist Church, 200 FM 517 West, in Dickinson with Rev. Jack Matkin officiating. Graveside services for family members will be at the National Cemetery at Fort Sam Houston in San Antonio, TX Aug 30, 2019 at 2:00 pm with Rev. David R. Melville officiating.
Anna was born in 1925 and grew up on a farm in Pennsylvania during the era of the Great Depression. At the age of 19, during WWII, she answered the call to her country by joining the WAF's – Women's Air Force – in Biloxi, MS, where she met her loving husband, Rex L. Snyder who was in pilot training. During their marriage of 56 years, they lived in 28 different homes all over the world, and she was a model military wife during Rex's military career of 33 years. After Rex passed away in 2001, she moved to Air Force Village in San Antonio, Texas where she was able to share time with life-long friends. In 2013 she moved to Serenity Gardens in Dickinson to be close to family.
Anna was a loving and devoted Mother, Grandmother, and Great Grandmother and extended the same care and support to many friends. She loved boxer dogs, birds, and the outdoors. Her favorite pastime was spending time at Medina Lake in Texas with her family and nature.
Anna is preceded in death by her husband, Rex; sisters, Rose, Sue, and Helen and her brother, Charles. She is survived by her only son, Russell R. Snyder MD and his wife Cecilia of League City; granddaughter Dr. Holly Ann West, PA-C and her husband Justin of League City; grandson Clifford Lee Snyder, PA-C and his wife Nici of Dickinson; great-grandson Elijah Lee; and great-granddaughters Lily Ann and Whitney Kay; and many nieces and nephews.
There are many people to thank for their dedication and caring for Anna. First among them is Rusty Jordan and the outstanding staff at Serenity Gardens for the past 6 years. We would also like to thank the professional team from Traditions Health Hospice Care. A special thank you also to all the physicians and staff at the University of Texas Medical Branch in Galveston, League City, and Clear Lake campuses.
In lieu of flowers, the family requests that memorials be made to the Alzheimer's Association or the Charity of your choice.