Anna Louise Hughes Miller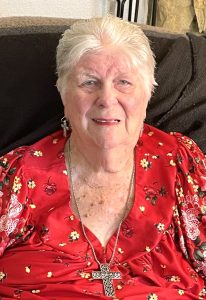 Anna Louise Hughes Miller, 95, passed away Friday, June 23, 2023, in Sugarland. Louise was born November 4, 1927, in Texas City, to William Fred and Ethel Mae Hughes. She was a lifelong resident of Texas City and a longtime member of West Haven Church of Christ, Texas City. She has been a resident of Sugarland for the last six years.
Louise was preceded in death by her parents and husband, Milton Lynwood Miller and two sons, Freddy Lynn Miller and John Lesley Miller. She is survived by her daughter, Robin Miller; daughter–in-law, Dawn Miller, sister Vivian Hughes Scott; grandson, Austin Dean Miller (wife Hannah), and three great grandsons, Ethan Miller, Isaac Miller, and Caleb Miller. Also, many loving nephews, nieces, and cousins.
A Graveside Service will be held at 10:00am Tuesday, June 27, 2023, at Hayes Grace Memorial Park Cemetery, 10708 Hwy 6, Santa Fe, TX 77510 with Kirk Castleman officiating. Interment will follow, under the care of James Crowder Funeral Home.
The Family wishes to express heartfelt gratitude to her caregivers at Luna's Angels:  Vanessa, Maria, and Tina for their upmost care and love.