Anita Charmaine Clayton Hoechten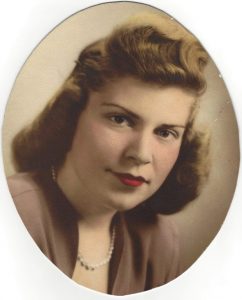 In Loving Memory
Anita Charmaine Clayton Hoechten, of League City, Texas passed into eternity on Tuesday, April 26, 2017 at the age of 91. She was born August 18,1925 in Coleman, Texas.  She was the daughter of the late Roy Clayton and the late Ersa Mae Lewis Clayton.
Anita Charmaine Clayton Hoechten is survived by; her daughter Doris Casseb of League City, her sons Vincent Hoechten of Dickinson, and Keith Hoechten of Nacogdoches, her grandchildren Audra Richardson, her husband Joshua Richardson of Pueblo West, Colorado, Ryan Hoechten, and his wife Amy Shirley Hoechten of Shreveport Louisiana, and Erica Hoechten of Portland, Oregon; her great grandchildren Taylor McKenna Richardson and Josiah Blaze Richardson of Pueblo West, Colorado, her sister Doris Isbell of Amarillo.
She was preceded in death by her Husband of 60 years Dr. Harry Vincent Hoechten, sister Blanche Althaus, and brothers Guion Clayton and Lewin Clayton.
Charmaine touched the lives of many people with her smile and generosity, and maintained her trademark sense of humor all the way to the end.
Services for Anita Charmaine Clayton Hoechten will be held at the Houston National Cemetery Chapel, Monday, May 1, 2017 at 10:00 am (please do not go directly to the chapel pull into lane one no earlier than 9:45am) under the direction of Crowder Funeral Home with Father Seth Hermoso officiating. In lieu of flowers, the family has requested Memorials to the American Heart Association/ American Stroke Association.  Those wishing to send flowers may have them delivered to the funeral home.