Angelique Niccole Ramirez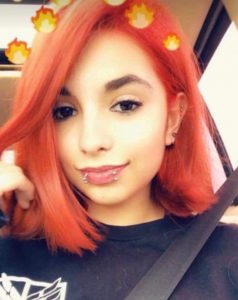 Angelique Niccole Ramirez, 15, of Santa Fe, TX passed away May 18, 2018, in Santa Fe, TX.  Angelique was born January 26, 2003, in Blackwell, OK to Jeremiah Ramirez and Robin Treat.  She has been a resident of Santa Fe since 2008 and formerly of Ponca City, OK.  Angelique was a freshman at Santa Fe High School and a member of Day Spring Church.  She was lovingly known as "Sister Love", "PZ" and "Aaron".
"Our sweet "Angel Messenger" was incredibly gentle, kind, free-spirited, thoughtful, caring, and empathetic.  She wore her heart on her sleeve and stood for what she believed in.  She was an amazing sister who sheltered, protected, and loved her brother with everything she had.  She loved to make people laugh, music, art, anime, animals, and spending time with her family and friends."
Angelique is survived by her parents Robin Niccole Treat and Jeremiah Ramirez; grandparents Charles and Sandy Ramirez and Bob and Marie Clover; sister Araceli Renee Ramirez and brother Amadeus Jeremiah Ramirez.
There will be a visitation from 6:30 P.M. to 8:30 P.M on Friday, May 25, 2018, at Day Spring Church 2215 FM 646 Santa Fe, TX.  A Funeral service will be 1:00 P.M. on Saturday, May 26, 2018, at Day Spring Church with Pastor Brad Drake and Pastor Richard Pourchot officiating.  The burial will follow at Hayes Grace Memorial Park. Pallbearers will be Trey Rose, Nick Hoelscher, Jason Troutman, Daniel Bowman, Gary Deering, and Aaron Vick.