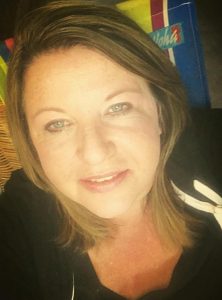 Amie Coleleen Peters, 47, of Bacliff, Texas received her angel wings on December 17, 2016,
while at Methodist Hospital in Houston. She courageously fought a 20-year battle with a rare blood disorder, TTP.
Born Amie Coleleen Westcott, on October 3, 1969, to parents Peggy Ilene Thornton and Calvin Hugh Westcott.
Amie graduated from Clear Creek High School in 1988, where she was known as Amie Dobbs. She enjoyed crafts, drawing, painting, and was very creative and artistic. This was shown in her ability to style hair. Amie was one of the best hairstylists in the area. She had a heart as big as Texas and was marvelous at caring for her family and friends.
She was proceeded in death by her bonus father, Pee Wee Dobbs; her maternal grandfather, Lloyd (Skeet) Thornton; her paternal grandparents, Richard and Cody Westcott; her bonus paternal grandparents, Bill and Elaine Dobbs; and her bonus maternal grandparents, Joseph and Marge Hammond.
Amie leaves behind to cherish her memory, her husband of 27 years, David Dean Peters; her son Zachary Dean Peters; her mother, Peggy Ilene Dobbs; her father, Calvin H. Westcott; her bonus mom, Lisa Westcott; sisters Debbie Thompson and husband Jimmy; Mindy Dobbs; Tammy Mason; Laura Westcott and brothers Scott Harris Dobbs and Alex Westcott; numerous nieces, nephews, aunts and uncles. She also had an abundance of friends who meant the world to her–she considered them her family.
Friends are invited to visit and reminisce with the family from 6:00 pm to 7:00 pm on December 21, 2016 in the chapel of Crowder Funeral Home,
851 FM 517 Rd. W, Dickinson, Texas 77539. Funeral services will begin at 7:00 pm.
In lieu of flowers, the family requests that you donate plasma, whole blood, platelets or money to Gulf Coast Regional Blood Center.