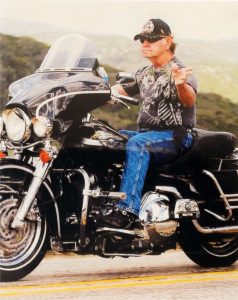 Alvin Blaine Crites (82) of Santa Fe, TX passed away on Sunday, January 1, 2023.  He was born on February 9, 1940 in Ogden, Utah to Wilford and Mary Crites.
Alvin was a resident of Santa Fe for over 50 years. He served in the US Army; he enjoyed riding motorcycles and loved hanging out at Cruisers.  He worked as an Auto Body Man throughout Galveston County.
Alvin is preceded in death by his parents, wife Karen Crites, daughter Jill Lopez and sisters, Jeannette and Mary Lou. He is survived by his daughters; Beverly McKinney (Jimmy), Tammy Salinas (Hugo), Wacky Jackie McGilvray (Cameron), brothers; Vern, Kent, Curtis and Barry, grandchildren and great-grandchildren; Jeromie, Kim, Brandon, Marcos, Antonio, Jesse, Mario, Jason (Brandi), Brandon, Kenzie, Kristen, Amber, Kyle, Kiera, Ronnie, Ashley (Anthony), Madison, Bryson, Lily, Aubrey, KC (Cat), KK, Miranda (Zach), special friends Keith and Brenda Stuck, Louis Timmons and Spencer Hollaway.
Visitation will be held on Friday, January 6, 2023 from 2:00pm – 4:00pm at the Crowder Funeral Home in La Marque.