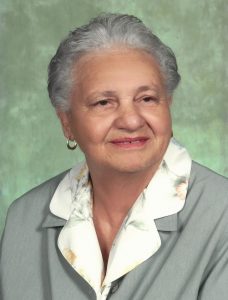 On the night of October 11, 2019 at 8:15 pm an Angel of God came into the room of Alphonsia Orebeau and guided her to her eternal home. Alphonsia was born August 14, 1934, in Eunice, Louisiana to the late Samuel and Antoina (Ceasar) Datrice. She was baptized in and upheld the Catholic Faith.
Alphonsia was united in marriage to the love of her life, Roy Orebeau on December 2, 1950. In this union they had a beautiful daughter Terry Ann Orebeau and she married Carl Lee Amey who has been a devoted son-in-law.
Alphonsia had been a resident of Hitchcock since 1955 and retired from UTMB after eighteen years of service. She became a member of Our Lady of Lourdes Catholic church in 1968 and was a member of the Ladies Auxiliary KPC, Court 163.
She is survived by her brothers Calvin Datrice, Gerald Datrice and her loving sister Mary Jane King. She is preceded in death by her parents, one sister, Winnie Orebeau and four brothers: Leroy Datrice, Wilbert Datrice, Lee Joseph Datrice and Paul (JC) Datrice. She also leaves behind a host of nieces and nephews; as well as her two godchildren Hilbert Orebeau, Jr., and Antoinette Datrice.
A visitation will be held from 4:00 pm to 8:00 pm on Friday, October 18, 2019 with a Vigil and Rosary at 6:00pm at the James Crowder Funeral Home in La Marque. A funeral mass will be held at 10:00 am Saturday, October 19, 2019 at Our Lady of Lourdes Catholic Church with Father David Harris officiating. Interment will follow at Mount Olivet Catholic Cemetery in Dickinson.