Alice May Andres Campbell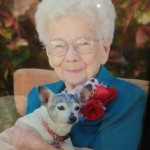 Alice May Andres Campbell, 92, went home to be with our Lord and Savior on May 5, 2014.
Alice was born in Kansas City, Missouri on October 30, 1921 to Mary and John Andres, and grew up in Independence, Kansas. Despite growing up poor, she always had a strong sense of family and work ethics. After completing the 8th grade, she began working to help support her family. Her first jobs included working in a department store and as a live-in nanny for two children. She then joined the Army where she served as an Army Medical Technician during World War II until her Honorable Discharge. While in the service, she met and married the love of her life, William W. Campbell. They married in 1946 and were blessed with three children of their own and the opportunity to raise a host of others as she operated a home daycare for children of medical students and UTMB employees. Once her children were raised, she began work for Baskin-Robbins Ice Cream Store in Galveston. Alice made manager before reluctantly retiring. Never one to rest on her laurels, she worked for Wal-Mart in Galveston as a greeter and then as "The Fabric Lady" in the fabrics department.
She was a member of Sacred Heart Catholic Church. She became a member of First Baptist Church La Marque when she moved to the Mainland in 2009. She insisted on being in God's house every Sunday she was able. She believed God's promise in the Bible found in John 3:16. While at FBC-LM, she was also active in the various mission opportunities offered.
She is preceded in death by her husband and her daughter Nancy Murello, as well as nine brothers and sisters.
She is survived by her son, Michael Campbell, Sr. (Anna) of Spring and her daughter, Mary Jane Patterson (Gordon) of La Marque; her four grandchildren: Michael Campbell, Jr. (Kellie) of North Carolina; Michelle Thomas (Eric) of Katy; Marcie Taylor (Tim) of Brenham; and Matt Patterson (Leslie) of San Antonio; and her eight (soon to be nine) great-grandchildren.
Per her request, cremation will be under the direction of Crowder Funeral Home in La Marque. A Celebration of Life Memorial Service will be held on Thursday, May 8, 2014 at 10 am with her dear friend and Sunday School teacher Bro. Jerry Esmond officiating. She will be entombed at Calvary Catholic Cemetery with her husband in Galveston. She will be greatly missed by family, friends, and her faithful four legged companion Penny. The family wishes to thank all those who aided and assisted with the caregiving of Mrs. Campbell. If you wish to remember her, it is her desire you do it with a kind word or deed to someone who needs you.