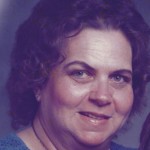 Alice Marie Rives Hise – 75 of League City, Texas went to be with the Lord July 28, 2014 surrounded by family at her residence. She was born to Abner L. Rives and Pamela Susan Cessna Rives on August 19, 1938 in Hardin, Texas. She was a member of Hardin Methodist Church.
She volunteered at League City Emergency Management for years. She retired from the United States Postal Service in 2000 after 20 plus years of service. She loved to travel with her husband, Troy, all over the United States and Canada. Alaska being her favorite destination of all. Meeting wonderful friends on the way. She was a big fan of all the Houston sports teams. " Luv ya Blue!"
Alice Marie is preceded in death by her husband of 42 years Troy Lee Hise Sr., her brother Abner Lee Rives, her son David Stewart Tanner, stepson Troy Lee Hise Jr., step daughter Sharon Behrend, step grandchildren Zara Sue (Kiki) Samuels, Joseph Hise, Ricky Behrend. She is survived by daughter Alicia Diane Horton and husband Steve, son Bruce Franklin Tanner and wife Cindy, daughter Martha Sue Grace Neve and husband Donald, stepchildren Jeanette Slade, Desi Hise, Dianna Hise, grandchildren Eric Williams and wife Julie, Donald Neve II, Ciara Tanner, Cassie Albo and husband Danny, Brittany Stavinoha and husband Jared, Emily Tanner, Jamie Neve, Caleb Horton, Andrew Tanner, David Neve and 6 great grandchildren, host of compassionate friends and neighbors, loving step grandchildren and great grandchildren.
Visitation Thursday July 31, 2014 from 6-9pm at Crowder Funeral Home, 1645 East Main Street, League City, Texas. Funeral Friday August 1, 2014 at 10:30am at Hardin Methodist Church, 1005 FM 834W, Liberty, Texas 77575.
Serving as pallbearers will be Donald Neve II, David Neve, Eric Williams, Caleb Horton, Andrew Tanner, Ransom Behrend, alternates Jack Slade and Dylan Wilmore.