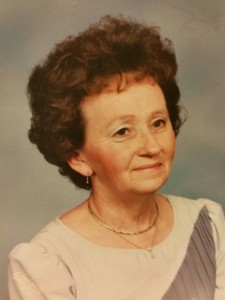 Alice Lou Hollowell went home to her Heavenly Father on May 7, 2015 in Angleton, TX.
She is preceded in death by her; loving husband, Charles Hollowell, her parents George and Clara Douglas. Her brother George Douglas Jr. and sisters Dorothy Ayers and Elizabeth Gregg also her dear son-in-law Thomas L. McKnight, Sr.
Alice is survived by her daughter, Alice Faye McKnight of Angleton, TX; Sisters, Jane Higgins of Lewisville, TX and Rosemary Webb of Cypress, CA.;  Grandchildren, Jim & Shar Young of Flower Mound, TX and Jeff & Leitha Doebler of Angleton, TX.
Great-Grandchildren; Chance Young of Carrollton, TX, John-Paul  and Monica McHargue of Denton, TX, Jaime Young of Flower Mound TX, Dylan Doebler of Fort Benning, GA, Victoria Doebler of Clear Lake, TX,  Korina Moore of Pearland, TX, Lacie  Smith of Angleton, TX.
Great-Great-Grandchildren; Ryder McHargue of Denton, TX and Bella Arnold of Angleton, TX
She was survived by numerous nieces and nephews and many more family members and friends.
Final arrangements are entrusted to Crowder Funeral Home of Dickinson, TX.   Service and burial at Cedarlawn Memorial Park Cemetery in Sherman, TX, May 12, 2015 at 1:00 p.m.
She was a dedicated hard worker and was devoted to her family and enjoyed cooking and spending time with them. She will be missed very much.