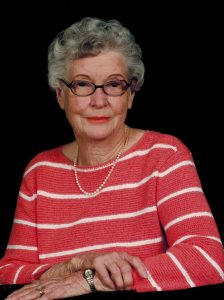 Alice Juanita Broker, 87, passed away Friday January 6, 2017 at Northside Hospital in Atlanta, Georgia.
Funeral services will be held on Friday, January 13, 2017 at 2:00 PM at James Crowder Funeral Home in La Marque. Visitation will immediately precede the service at 1:00 PM with burial to follow at Galveston Memorial Park in Hitchcock.
Mrs. Broker was born April 24, 1929 in Groesbeck, Texas. She was a longtime resident of La Marque where she was involved in various ministries at Highlands Baptist Church including years of service in the church library.
Mrs. Broker was a devoted wife and mother who put her family before herself at all times. She was an excellent seamstress and cook and her pie making skills were exceptional. She loved to read, work crossword puzzles and play games, especially 42.
She was preceded in death by her loving husband of 50 years Robert C. Broker and beloved sisters Dorothy Sills and Jeanette Welch.
She is survived by son Robert C. (Charles) Broker Jr. of La Marque; daughter Cheryl Cox and husband Dave of Acworth, Georgia; daughter Ellen Glenn and husband Kelly of Atlanta, Georgia; son Kenneth Broker and wife Victoria of Texas City; sister Winnie Jefferson of Jewett, Texas and brother James Ainsworth of Concord, Texas. She is also survived by grandchildren Jon Broker, Emily Arff, Katy Williams, Megan Lipscomb, Kyle Glenn, Bryan Glenn, Amber Hartman, Blake Broker, Robert Wayne Broker, Caleb Broker and numerous great grandchildren.
Pallbearers will be Kenneth Broker, Jon Broker, Kyle Glenn, Bryan Glenn, Glenn Sills, and Richard Jefferson.
In lieu of flowers donations may be made to the Alzheimer's Association.