Alfredo "Freddie" Guerrero Salas, Jr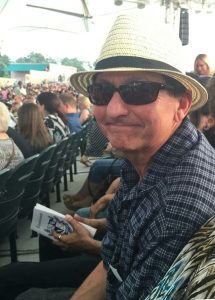 Alfredo "Freddie" Guerrero Salas, Jr., 54, passed away on November 7, 2017 at home in League City, Texas. He is survived by his Dad, Alfredo Sr., Mom, Guillermina Alma; Sisters, Sylvia, Cynthia and her husband Larry Coronado, Sandra and her husband Robert Coy; his nephews and nieces, Vincent, Christian, Andrew, Cyrina, Noah, Lily, Marcus and Samuel; friends and his Kroger Family.
Freddie had a lifelong love for cars. He loved to travel and also loved living in California near the beach. His love for living in League City reminded him of the West Coast. Wherever he worked, he was fully dedicated. In 2013, he returned to Texas and began working at Kroger where he met and made so many new friends who quickly became like family. In addition to his passion for cars and car shows, Freddie enjoyed spending time with his family and friends. He always had a smile on his face and was willing to help out anyone in need. Freddie had a big heart and a kind soul. He will be greatly missed. He may be gone, but will never be forgotten.
All are welcome to join us for refreshments and fellowship in the reception room after the service.
Our family wishes to thank everyone for attending and for all of your love, support, and kindness in this time of sorrow.
We are sincerely grateful to Crowder Funeral Home for allowing us to celebrate Freddie's life today.
Special thanks to Kroger for providing refreshments.