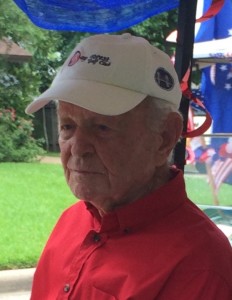 Funeral Service 4pm, Wednesday, May 20 at Crowder Funeral Home in Webster.   He will be laid to rest with military honors in Roselawn Memorial Park Cemetery, Denton, Texas.
Alfred Martin, Col. USA Ret., passed away peacefully on May 14, 2015, two days short of his 99th birthday.  Al Martin was a family man, who leaves behind his wife of 71 years, Doris (Taliaferro) Martin, his sons Bill, John and Jimmy, and their wives, Julie, Maureen and Lavanna, six grandchildren and nine great-grandchildren.   The fourth of five children, he is the last of his siblings to pass.
Al was born May 16, 1916 to Alfred and James (Trimm) Martin (Mama Jim) in Tuscaloosa, Alabama.  In 1940 after college at UCLA, he was commissioned as a Second Lieutenant in the US Army, and was one of the first 100 officers who did not attend West Point to be commissioned as regular Army.  His first station was the Presidio in SF, followed shortly thereafter by serving as a trainer with the 84th infantry in Gainesville TX.  While he was in Gainesville he was invited to a party in Denton, TX where he met Doris Taliaferro, his wife to be. In 1944 he was deployed as a Major to the European Theater with the 335th Infantry, part of the 84th Infantry Railsplitter Division.  His unit saw action in the Battle of the Bulge in the Ardenne Forest in Belgium, where he was wounded by schrapnel, and earned a bronze star.  As the chief tactician of his unit, Al was always conscious of the fact that his decisions would result in the death of some of the 5,000 men he commanded, and he judiciously planned to achieve his objectives with minimal loss of American life.  By the end of the war he had been promoted to Lieutenant Colonel.  After the war he was part of occupation forces, served as a war crimes judge, and attended the famous Nuremberg trials.  In the early fifties he was part of Attachment R, which trained embassy personnel to learn about Russian culture and politics so that they could gather important information during the Cold War.  He returned to the States and worked in Washington D.C. for the Undersecretary of Defense and was promoted to full Colonel.  In 1958-59 he was regimental commaner of the 8th Infantry at Ft. Lewis, Washington.  In 1959 he was stationed in Korea, where he was the only American soldier on the 38th parallel.  Following Korea, he came back to the Washington area where he worked in Army intelligence (DIA) at CIA headquarters in McLean, VA until he retired from the Army in 1965.  In 1965 the family moved to Texas, where he was a senior marketing executive for Lockheed.
A lifelong golfer, Al learned the game from his brother, Jimmy, when he was a very young boy and played it his entire life, with exceptions for war, hardship tours and moving up the ladder in his various careers.  He actually was able to play golf into his 95th year.  Al loved animals, and the family always had a dog or cat or both.  He enjoyed parties, loved being with his family and extended family.  He was a life-long Republican, and a member in good-standing of the Clear Lake City Church of Christ.