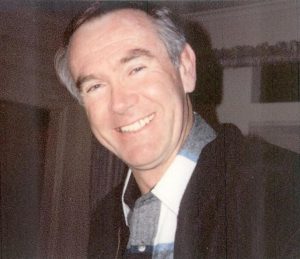 Alfred Ernest Morrey, III of Clear Lake City died on December 2, 2017.  Al was defined by his faith, his family, his devotion to helping others, his love of the outdoors, his competitive fire, his love of sports, and his belief in always doing your best.  In his long and courageous battle with melanoma cancer he exhibited many of these traits that kept him hopeful and strong all the way to the end.
Al was born on June 22, 1942 to the loving parents of Alfred E. and Theresa J. Sanders Morrey in Pittsburg, Kansas.  His early childhood years were spent in Fort Worth, Texas with younger brother Bernie constantly at his side.  Al later became the big brother to three wonderful sisters.  Alfred graduated valedictorian of Laneri High School and later attended St. Edwards University in Austin on scholarship in baseball and basketball.  Two years later Al decided to enter the Seminary at Loras College in Dubuque, Iowa graduating in 1964 with majors in physics and theology.  Al also studied theology at Catholic University in Washington DC before joining NASA in 1967 in the Mission Planning Analysis Division.  After obtaining an MBA from the University of Houston, Al transferred to the Contract Compliance Division.  In 2002, after working at NASA for thirty five years, he retired.
Alfred lived a very active lifestyle and enjoyed spending his free time outdoors and with his family and friends.  He enjoyed coaching his children in youth basketball, baseball and soccer for many seasons.  Al had a special connection with his players and took great pride in making sure all his players had a positive experience.  In addition to coaching, Al always enjoyed and excelled at playing competitive sports, especially basketball, softball, tennis, and golf.  Al's love of the outdoors also supported one of his favorite pastimes;  fishing with his family and friends.
Many people recognized Al as the life of the party as he loved to laugh and make others laugh, especially his children, grandchildren, nieces and nephews.  Al and wife Marie also enjoyed the many memories they created traveling with their long time friends Jim and Mary Lou Pawlowski.
Faith was a permanent thread in Alfred's life.  He and Marie were charter members of St. Bernadette Parish in Clear Lake City, volunteering their time to the church.  Al believed in helping others and most recently taught adult literacy for many years, ceasing only because of his illness.
In addition to Marie Novosad Morrey, his wife of 46 years, Al is survived by their three children:  Jeffrey (Dana) Morrey of Fulshear, Tracy (Erik) Nygren of La Grange, and Gary (Lisa) Morrey of Sugar Land.  He will be especially missed by his grandchildren:  Macy and Charli Ann Morrey, Lily, Reece, and Ella Nygren, and Travis and Meredith Morrey.
Al is also survived by his siblings: Bernard (Carla) Morrey of La Grange, Mary (Joe) Matuskowitz of Greensburg, PA, Anne (Bill) Quinn of Austin, and Michelle (John) Sneed of Washington DC.  He will be greatly missed by his 19 nieces and nephews.
The family also gratefully acknowledges so many of Al's wonderful neighbors and friends from NASA, church and sports who visited him faithfully during his illness.  The family would also like to thank Dr. Ganesh Rao and Dr. Roda Amaria at MD Anderson as well as Ann Holman and Anna Molina for their wonderful in home care.
Visitation will be on Friday 12/8/17 from 6-7 pm with a wake beginning at 7 pm.
Location: Crowder Funeral Home,  111 East Medical Center, Webster, TX.
A Mass of Christian Burial will be held on Saturday 12/9/17 at 11:30 am.
Location: St. Bernadette Catholic Church, 15500 El Camino Real, Houston, TX.
The Mass will be followed by a lunch reception at the parish center and a private interment in Moulton, TX.  In lieu of flowers, memorial contributions in Al's name may be made to: Christian Action of St. Bernadette Parish:
15500 El Camino Real, Houston, TX.  77062 or MD Anderson Cancer Center:
PO Box 4486, Houston, TX.  77210-4486 Note:  Please include in memory of Alfred Morrey so that the money will go to immunotherapy research.