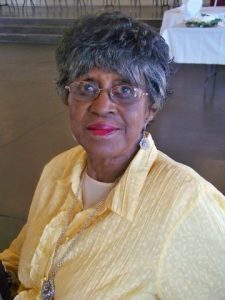 Alein Kelley, 89, died peacefully surrounded by loved ones Sunday, October 29, 2023 after a long illness. Born July 22, 1934 in Anderson, Texas, she was a homemaker, seamstress, crocheter, but above all a wonderful cook. She worked as a cook for over 40 years in Texas City, La Marque and League City, Texas.
She is preceded in death by her parents, Jasper and Gussie Lee Baldwin, six sisters, Mae Ola McClain, Leontine Daniels, Mildred Daniels, Lorine Baldwin (Twin), Bobbie Bowden, Doris Amey and a grandson, Gene DeMar Haynes.
Celebrating her victory to Jesus are her family, five children, Ronda Lea Haynes (Wayne), Robert Lee Kelley, Jr. (Valeria), Darrell Wayne Kelley (Paulette), Ronald Lewis Kelley (Kathleen) and Rochelle Denise Kelley;  eight grandchildren, Annetta Haynes, Dean DeVar Haynes, Jasmine Renee Kelley, Alex Leslie Kelley, Gabrielle Graves, Alexander Kelley, Stacey Combs and Tiree Edwards; four great-grandchildren, Jasmine Haynes, Ash Rodriguez, Jacey Long and Ronin Edwards; two sisters, Geraldine Murray of Texas City, Texas and Maudel Haywood of San Francisco, California; devoted friends, Yvonne Newsone of Friendswood, Texas and Dorothy Wells of Junction City, Kansas and many nieces, nephews, cousins and friends.
On November 11, 2023, Visitation will be at 10:00 a.m. with Service starting at 11:00 a.m. Both will be held at Rising Star Missionary Baptist Church, 301 N. Oak Street in Texas City, Texas with Rev. D.N. Benford, Sr. officiating. Burial will follow at Rising Star Cemetery in La Marque, Texas.
Services under the direction of Crowder Funeral Home in Dickinson, Texas.